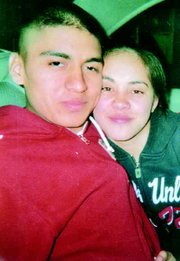 Sunnyside police are seeking an 18-year-old man who is allegedly harboring a 13-year-old runaway.
For the second time, police believe Julian E. Velasquez of Sunnyside has disappeared with 13-year-old Rebecca Redick, a sixth grader at Chief Kamiakin Elementary School.
According to Policeman Chico Rodriquez, the girl ran away about a month ago, but returned after about a week.
Police and school counselors worked with the girl for about a week and set up a meeting with other counseling specialists, but she ran away a second time the night before she was to meet with the professionals.
Her parents reported her as missing within 15 minutes of when she ran away. Her family has not seen her since May 5.
Shortly after she disappeared, the Redick family received a postcard in the mail with pictures of the young girl and Velasquez, a family neighbor. The postcard was similar to the type purchased at a carnival and was a mock "Wanted" poster.
Police continue to believe the two are together, although they don't know where they are at.
"A warrant has been issued for his arrest," said Rodriquez. "He's being charged with harboring a runaway. We are going to be requesting further charges."
Police also have Velasquez entered into the Washington State Identification Communication database, so if he's stopped for a routine traffic stop his name has been flagged as a person of interest.
Although police don't know exactly where Velasquez is located, Rodriquez said there is a possibility that they are in the Tri-Cities area. He added that the suspect also has extensive family in the Sunnyside and Prosser areas.
Anyone with information should contact their local police department or the Sunnyside Police Department at 836-6200.