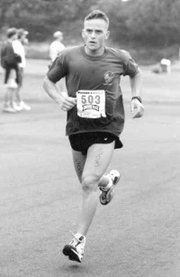 PROSSER - The Fourth of July will include more than fireworks for those who make the trek to Prosser this Independence Day. This year family and friends of the late Marine Staff Sergeant Marvin Best are planning to remember the fallen soldier with a memorial run.
On Monday, July 4, at 7 a.m. runners of all ages and skill levels will meet at Prosser's Art Fiker Stadium to kick off the first ever Prosser's Best Run.
Mathew Gray, the director of the run, explained that having served in the military himself, he knew Best, who died while conducting combat operations in the Al Anabar province in Iraq. He added that Best was his recruiter.
For Gray, the idea to organize a run in Best's honor seemed like a natural thing to do. He explained that Best was an avid runner, who had taken part in marathons and triathlons during his life.
"He loved to run," Gray said of Best.
Gray added that he wanted to do something that would ensure that Best is remembered for what he did for his country.
"I thought people might remember him next year, but what about five, 10, 20 years from now?," Gray said.
After a little thought, Gray knew that putting together a running event was just the right answer.
"It just fit so perfectly to have a run in his honor," Gray said.
After spending six months mulling over his idea to organize a run in remembrance of Best, Gray said this past February he started putting together the committee that was going to make the run a reality.
"It just fell into place as it went," Gray said.
He noted that as the committee members talked they started out planning on a marathon.
"But the more I thought about it, I knew that I didn't want to run a marathon," Gray said.
Instead, the committee decided to make Prosser's Best Run into an event with three different running options. Gray explained that the race will include a 1 mile component, as well as 5 kilometer and 10 kilometer race routes. Although the three races are different lengths, all runners in each of the races will start at the same time at the high school football stadium.
Gray explained that the three different race routes will give people of all ages and skill levels a chance to come out and participate in the run, adding that walkers are also welcome.
"I want to encourage everyone to come out and participate in this," Gray said.
Once all of the runners have crossed the finish line, the runners and local community members alike will have a chance to see a military ceremony in honor of Best and other fallen soldiers. He explained that military groups from throughout the region will be involved in the ceremony.
The cost to take part in the run ranges from $5 for children 12 and under to $17 for adults who register after the June 25 deadline. Gray said registration will be accepted through July 4. The proceeds from the race will go to help provide aid to wounded and deployed military personnel and their families throughout the area through the American Citizens Encouraging Support organization.
Those interested in taking part in Prosser's Best Run can pick up registration forms at the Prosser Chamber of Commerce or can contact the Prosser Chamber of Commerce at (509) 786-3177.