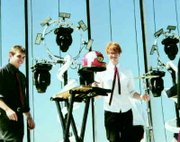 by Rachel Bott
GORGE AMPHITHEATRE - It is almost noon, and the sun is showing off its powerful rays with 97-degree heat beating down. I'm surrounded by thousands and thousands of people and the heat is almost unnoticeable, because I'm about to witness one of the greatest rock shows of all time, the kind of irreplaceable one that can change so much in the future of music to come.
I'm standing center stage in the very front in a large crowd of lucky people. The Arcade Fire, a distinctly Indie rock band who hail from Montreal, Quebec, Canada, are about to amaze a crowd numbering around 20,000.
"Wake Up!" was the first song to dazzle us all on the main stage of last weekend's Sasquatch Music Festival. And wake up we definitely did, completely seized by the band's overwhelming music. Launching into an enthusiastic and passionate beginning, the crowd knew that no disappointment would creep in as we all screamed along to the words being sung.
The stage was quite packed as well, as the band demonstrates that quantity leads to better quality...there were almost 15 musicians on all different instruments at any given moment.
Surprisingly, the band was humbled by the audience reaction, though their album "Funeral" of 2004 was listed in several top album lists of last year.
The band strongly satisifed its listeners with all of our favorites, including "Power Out, "Haiti" and "Crown of Love." They risked it all, daring themselves to surpass the already excellent album.
This is truly the only live performance I've seen where the CD becomes almost disappointing after experiencing the music in person. It's simply inspiring to watch them perform.
The stage was set up with a well-balanced combination of French horn, violin, guitars, xylophone, accordion, cymbals, bass, drums and even at times the walls of the stage served as instruments. The musicians set a magnificent example of what could be accomplished by experimenting. It was all I could do to keep track of even who was playing what. Each song finale led to an effortless rearrangement, where the previous drummer went to lead vocals, and the current guitarist just traded away his accordion.
Intense and amusing was the moment where band members Richard Parry and Howard Bilerman began hammering on the cymbals and the poles on the stage with such force that objects began falling, and drumsticks were cracking like thin pencils. Better still, this unusual method of percussion did not once lose the riveting rhythm of the song; instead it crazed them and the crowd even more.
I was even happier when I was handed a piece of the shredded drumstick (what better souvenir could I possibly take home?).
The violin accompaniment was strongly noteworthy as well: fast paced, high-strung and rich.
Throughout the nine-song set, I easily recognized they know how unusual but incredible things they can do by reaching out musically at every opportunity. It's absolutely grand to see a group so fine-tuned, eccentric and even whimsical that are so appreciated in their time. Being in their presence makes me never want to blink away an instant of it.
. Rachel Bott is a music enthusiast who is employed as a para-professional at Outlook Elementary School.
photo provided by Rachel Bott
Richard Parry, the drummer for the group The Arcade Fire, helps set up equipment for the band's performance at the May 28 Sasquatch Music Festival, staged at the Gorge Amphitheatre.