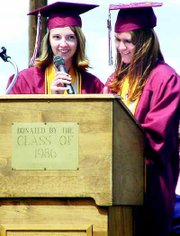 GRANDVIEW - In front of a standing-room-only crowd, 127 Grandview High School graduates received their diplomas Sunday afternoon.
With many of the seniors making big plans for the future, the class members earned more than $332,000 in scholarship monies for furthering their education.
Addressed briefly by Superintendent Kevin Chase, the class of 2005, which has been working toward graduation day for the past 13 years, was told that in the future looking back on their high school years, they will not remember the desks or bells, or the school lunches.
"They will remember the groups," he said, listing off those who played sports, were in band, participated in agriculture classes or drama.
"When they rise and move their tassels, they will be the class of 2005. It's the memories of the people in this class that they will remember the rest of their lives," said Chase.
Adding a bit of comic relief to the day, Chase said before the graduation started he had the opportunity to mill around and speak with some of the graduates, who all said they were calm and collected.
In the 19 years Chase has been working in the education field, he said he has found what graduates are really thinking just prior to the graduation ceremony is, "Please don't let me trip."
Addressing the class was former Grandview High School teacher and football coach Wayne Purdom, who was selected by the students to participate in the ceremony.
Purdom, who said most of the speeches he has given in his life have been eight to ten minutes in length and usually during half-time at a football game, briefly addressed the seniors as they prepare to move forward with their lives.
Purdom said he believes there are a few things that help an individual have success.
He said that mental toughness and discipline, taking pride in what they do and good work ethic all contribute to success.
"I think it ties in with what the class of 2005 chose as their class motto, 'You don't have to be great to start, but you have to start to be great'," said Purdom.
"Hopefully, by now you've started to determine what you want to do with the rest of your life," said Purdom.
He said taking pride in what they do is important in finding success, but the most important factor is a good work ethic.
Also addressing the crowd were valedictorian Beth Clapp and salutatorian Kayla Carpenter.
"We've been inseparable since we were five playing with Barbies at basketball games," said Carpenter.
"So we thought our speech shouldn't be any different," said Clapp.
The two presented their class with a fairy tale of class highlights, which started their freshman year.
In the kingdom of Grandview, the two recalled the start of their high school journey, attending boot camp with former teacher Mike Closner, which helped prepare them for the challenges of high school.
It wasn't until their sophomore year of high school that they faced their real first challenge, an ogre, also known as the WASL.
Clapp said after much concern, the class was able to pass by the ogre and face yet another challenge their third year of high school. The next challenge was working together to put on the royal ball, or prom.
After much planning, the class was able to have a successful ball.
Coming to the end of their third year, many of those in the class had to make a decision as to what to do with the rest of their lives, whether it be going to "university or the royal armed services," all in preparation for the end of their time in high school.
But with the end nearing, the students had yet another hurdle to cross before the end of their journey.
The students were required to complete a project and give something back to their community.
"They learned the importance of service and doing what you love," said Clapp.
With that, the students have ended this portion of their journey, which is where the story ends, said Carpenter.
But with so much ahead of them, she added that it is important for the students to choose their paths wisely as they continue journeys of their own.