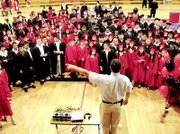 This past Friday night the Sunnyside High School Class of 2005 said its goodbyes and hello to the future in a quiet, straight to the point graduation that most likely left those in attendance filled with hope of a prosperous future for these young men and women.
But while Friday night was a celebration of the accomplishments and future of the graduating class, the community also got a look and feel for the future of Sunnyside High School. Getting an early start on his role as the new high school principal was Brian Hart, who will be taking over the position for the retiring Dennis Birr. Birr was unable to attend his final graduation ceremony due to back surgery, allowing Hart to provide a shining star of his own for the evening.
Hart started the evening off by recognizing those who have made a contribution to the high school. Hart had kind words of praise for retiring construction teacher Richard Nelson.
"He has had a great influence on many of the staff and students at Sunnyside High School," said Hart of Nelson, adding how he would be missed.
Before the evening's festivities took center stage, Sunnyside School District Superintendent Dr. Rick Cole had some words for the Class of 2005. Cole praised the accomplishments of the Class of 2005, which received an all-time high in scholarship and financial aid awards, totaling over $1 million. This is the first time any Sunnyside High School class has collected more than $1 million in scholarship and financial aid awards.
"You showed us you are a strong class to be reckoned with," said Cole. "You demonstrated a high level of trustworthiness as you worked your way through high school."
Cole praised the graduating seniors for having a vision and following through with their dreams.
Cole ended his talk by quoting some phrases from President Thomas Jefferson, such as "never put of till tomorrow what you can do today" and to forget past mistakes and press on. The superintendent had a final few touching words for the graduates that he hoped they would carry with them.
"Give ever living creature you meet a smile," said Cole.
Salutatorian Michael Alanis started his speech by thanking those who helped him get where he is today.
Alanis told the audience he had trouble writing his speech, so he seeked the advice of others. Some told him to keep the speech short while others said he should forget the speech and dance on stage for three minutes. But in the end, Alanis was able to come up with a speech he thought captured the moment.
"I say the past is good, the present is great and the future is even better," said Alanis. "Our future is built on what we have done here."
Alanis said after graduation, most of the seniors will go their separate ways, conquering individual mountains.
"I don't know what the future holds for us," said Alanis. "(But) if we fall let us get up and try again."
Valedictorian Brenden Scott intertwined his avid passion for running with his graduation speech.
"I saw many parallels between running and high school," said Scott, who has been a standout in both cross country and track and field at Sunnyside.
Scott touched on how hard work can pay off in the end in both high school and running.
"Life is the meet we have been preparing for for the past four years," said Scott. "Along with our diplomas, our friendships are the most important things we will take with us."
Scott offered some tips for members of the graduating class.
"In life our learning does not stop after high school," said Scott. "We need to be continually learning. Whatever comes next in each of our lives we are ready to face the challenge because we have been properly prepared."
One of the highlights of graduation was from class speaker Holly Ohler, who provided some heart-touching words for the graduating class.
Ohler encouraged the graduates to remember and cherish their time in Sunnyside.
"This community has raised all of you," she said. "I hope you always remember where you came from. This community will be here to embrace you when you come home."
She also asked that the graduating class stay friends with one another.
"Only they will get the jokes about how your hometown smelled," Ohler smiled.
Ohler also asked the graduates to never forget their families.
"Just know, your parents have given you their best," said Ohler.
Ohler also asked the seniors to always hold themselves to high standards.
"I hope you always remember to say please and thank you," said Ohler. "Always ask yourself if you will be proud of your actions later."
The senior class speaker also touched on the need of students to be able to take care of themselves.
"To the world you may be one person, but to one person you may be the world," she said.
Ohler also wanted the Class of 2005 to make sure and follow through with what they say, as that defines the character of an individual.
"Don't let anyone make you doubt yourself," said Ohler. "Make sure you are happy with the decisions you make."
Ohler then had one more piece of advice for the Class of 2005.
"Live well," she said. "Laugh often and love much."