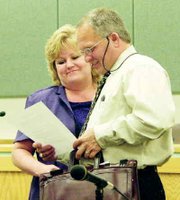 Theresa Hancock is the newest member of the Sunnyside City Council.
Hancock was selected from a field of three applicants Monday night. She will fill the vacant Position 1 council seat left open following the resignation of former Councilman Don Vlieger.
The other two applicants who applied for the vacant seat were Carol Stone and Rey Pascua.
Both Stone and Hancock had applied for a vacant Council seat last fall that was eventually filled by Paul Garcia.
Hancock is a current member of the Sunnyside Planning Commission. Hancock will take the official oath of office at the June 13 Council meeting. Hancock's seat will be up for re-election this fall.
Each of the candidates were given 10 minutes to present themselves and answer questions from Council last night.
Stone was the first of the candidates to go before Council and her presentation was short and to the point.
"I am prepared. I am committed," said Stone, who is extremely active in community events.
Stone said regardless of what Council decided she would continue to be involved with community activities.
Councilwoman Bengie Aguilar asked Stone if her schedule would allow her to take part in the different activities Council members sometimes have to do. Stone said the only thing that would stand in her way is if she had to drive at night. Aguilar also asked Stone to touch on some of her community activities. Stone said she is part of the local Community Accountability Board, which addresses juvenile problems within Sunnyside. She also is a member of a work group dealing with the comprehensive plan the Sunnyside Planning Commission is working on. Besides Council meetings, Stone attends Sunnyside Chamber of Commerce and chamber tourism meetings and is also a regular at the Sunnyside Lions Club meetings.
Mayor Pro-tem Mike Farmer asked Stone how she would react as a Council member if she felt strongly about a subject while the rest of the Council disagreed with her. Stone said she would never want to do anything illegal or immoral, but she would try to convince the Council of her opinion. Stone added, though, that she would side with Council on issues if all of them were in agreement.
Councilman Paul Garcia asked Stone to touch on some of her personal attributes.
"I am a people person," said Stone. "I like talking to everybody. I am open to any new experiences."
Pascua brought to the table an impressive resume, which includes a Bachelor of Arts degree in political science and ethnic studies, and a Master's in public administration. Pascua has extensive management experience, overseeing different operations within the Department of Social Health and Services.
Pascua is currently chair of the Sunnyside Civil Service Commission and president of the Filipino-American Community of the Yakima Valley.
"I want to contribute to the progress of this city," said Pascua on his reasons for seeking the City Council seat.
Pascua, who has lived in Sunnyside since 1987, said he considers himself a product of the Yakima Valley, having graduated from Wapato High. Pascua went over how he made his way from being a farm hand to working for the state government.
"I strive to achieve excellent customer service as a public servant," said Pascua.
Pascua said he wants to serve on the Council to help protect and provide for Sunnyside's greatest asset-the people.
Pascua said he would have no problem making the needed commitments if he was selected for the Council spot.
As far as being in the minority when it comes to a decision on different political matters, Pascua said he would want to know all of the facts on a particular subject before coming to a conclusion on a particular matter. Pascua said he would make known to Council his reasons for opposing a matter. Pascua did say that he would be willing to side with the Council on certain issues if a majority of the Council was in favor of an issue.
Pascua said some of his strongest attributes are his ability to ask questions and listen to ideas from all people.
Hancock said she felt she would bring a wide variety of experience to the Council if selected.
Hancock, who was also brief in her presentation, touched on her experience working with legislation for the liquor control board and her time on the Black Rock Creek Golf Course board of directors in helping develop her political and management skills.
"I don't bring any hidden agenda with me," said Hancock.
Hancock said her concerns are that of a resident of Sunnyside who wants to see the best for the community.
Hancock expressed an energetic response to the question if she would have enough time with her schedule to serve on the Council.
"I will make the time," said Hancock. "I have a flexibility in my schedule."
When asked by the mayor pro-tem if she would change her mind on an issue that she was opposed to while the rest of the Council was in favor, Hancock said she has no problem being in the minority on a matter.
"It would depend on how strongly opposed I was to it," said Hancock. "If it was something I felt strongly about I would not have a problem being opposed."
Hancock cited as some of her personal strengths as being able to work well in group settings. Hancock said she also likes to see positive things happen.
Council, after a 20-minute executive session, on the motion of Councilman Bruce Ricks picked Hancock as the newest Council member.
"I am excited," said Hancock after the meeting. "I think it will be a good group to work with. There is a lot to learn."
Hancock said she still has a lot of issues to study up on, but wants to work on such matters as making the entrance ways into the community more attractive and improving communication with the community.
"Communication is a key," said Hancock.