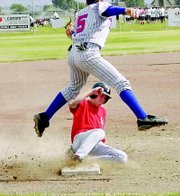 This summer marks a learning year for the fresh faces on the Sun Valley 16-18-year-old baseball team, a group that is basically the future of the Sunnyside High School varsity squad. And boy did these future Grizzly players get a lesson last night.
It looked as if Sun Valley was going to walk-off with the game last night against the visiting Yakima Peppers. The two teams had played over the weekend with Sun Valley winning handily.
Sun Valley posted a seven-run first inning Monday evening and things looked liked smooth sailing from there. But the junior squad of the Yakima Pepsi Pak had a different idea, as they turned the table on Sun Valley and delivered an 18-7 whipping of the local boys.
"We stopped playing baseball," said Sun Valley Coach Dave Martinez. "It was a good lesson for the team last night."
Surprisingly, it wasn't the six errors by Sun Valley that came in to play, as the Peppers scored 11 earned runs.
"We had some mental errors that didn't go down as errors," said Martinez. "Our youthfulness was revealed last night."
Martinez said after the game he encouraged his players to take a lesson from last night's debacle and learn from it, but then to move on because there is plenty of summer baseball left for them to perfect their skills.
The only two errors of the game for the Peppers came in the first inning. Some highlights of Sun Valley's seven-run first inning include RBI singles from Joel Zakahi and Cameron Boboth and a two-run single from Nathan Cornelius. Timmy Briones and Zach Marquez had RBI walks.
The Peppers started to chip away at the deficit in the third inning, posting two runs. The Yakima team had a four-run fourth and a two-run sixth before exploding for 10 runs in the top of the seventh. The Peppers had a grand slam in the top of the seventh, which coupled with Sun Valley being unable to execute on some bunt plays led to 10 runs.
"Those long innings are what our kids need to avoid," said Martinez.
Martinez credits the Peppers with being tenacious after a less than spectacular first inning that could have taken them out of the game.
"They kept competing," said Martinez.
The pitching trio of B.J. Miller, Cole Boboth and Joel Zakahi combined to give up 15 hits. Miller did have four strikeouts in three innings of work.
Sun Valley had 12 hits, led by Cole Boboth's 3-for-4 effort at the plate. Boboth had a double in the fourth inning. Zakahi also had a multiple hit day for Sun Valley, going 2-for-4. Miller was 1-for-4 with a double in the fifth. Also getting hits for Sun Valley were Cornelius, Zach Marquez, Diego Burgueno, Cameron Boboth, Sef Amaro and Josue Alvarez.
Sun Valley (1-1) is scheduled to play East Valley this Friday. Martinez said he is still trying to double check if the game is going to be played in Sunnyside as scheduled.