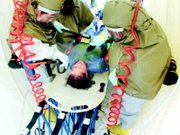 Thanks to a $31,000 federal grant, Sunnyside Community Hospital now has a trailer full of equipment with which to handle hazardous material accidents or bioterrorism incidents.
Last Thursday the hospital staff spent 12 hours learning how to use the emergency decontamination equipment, said Tom Lathen, Sunnyside Community Hospital Director of Community Relations and Physician Recruitment.
Hospital staff donned decontamination suits to learn and practice how to contain and decontaminate large numbers of people involved in an accident involving hazardous materials or bioterrorism, Lathen explained.
Working with trainers from the Emergency Response Training Institute, in cooperation with the Washington State Hospital Association, hospital staff was provided with training in the use of the decontamination equipment.
Lathen said the funds for the equipment and training was made available as a part of $450,000 grant awarded to Region VIII hospitals by the U.S. Department of Homeland Security.
"Sunnyside Community Hospitals is one of 95 hospitals across the state to have received a portion of the Homeland Security money," said Lathen.
"Our portion was approximately $31,000 with which to purchase equipment, materials and to provide staff with the necessary training," he said.
June 2, hospital staff underwent four hours of classroom training, plus an additional six hours of hands-on training using the decontamination suits and other equipment, Lathen explained.
This is the type of training that would have been used had the Grandview Wilbur-Ellis chemical fire been more serious, Lathen explained.
"If any of the firefighters had been contaminated by the chemicals, our Hazmat team would have used the decontamination equipment and their training as a part of the rescue and clean-up response," he said.
Across the state more than 1,000 hospital personnel have already received similar training. Lathen said 50 people took part in Sunnyside Community Hospital's June 2 training.