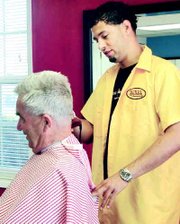 After spending more than a year working at Shear Heaven in Sunnyside, barber Mark Baysinger is stepping out on his own.
Baysinger recently opened On the Mark Barber Shop, located at the corner of Railroad Avenue and Seventh Street in Sunnyside. Baysinger said he is already keeping himself fairly busy when it comes to helping guys get just the haircut they want.
Baysinger is no stranger to the business of barbering. He said by the time he was 12-years-old he was cutting hair.
"I always had an interest in barbering," Baysinger said.
When Baysinger graduated from Sunnyside High School in 2001 he decided he wanted to pursue his interest in barbering and moved to Seattle. In Seattle, Baysinger said he met some established barbers and started learning the ropes of the business.
But it wasn't until Baysinger moved back to the Yakima Valley that he really started on the path to owning his own barber shop. He moved to Yakima and started attending Saki International and met the owner of Yak Town's Finest, a barber shop in Yakima. Baysinger said he spent about a year and half with Micahn Carter, the owner of the Yakima shop, learning about what it takes to be both a successful barber and a successful shop owner.
"I had aspirations to do what he did and own my own shop," Baysinger said. "He taught me the business aspect of things."
Baysinger said it was through Carter that he learned what makes a barber shop different than a beauty salon. He said men visit barber shops more regularly than women visit beauty salons. He explained that he has his once a week clients, once every two week clients and his monthly clients. He said having 200 to 300 regular clients can easily fill a barber's schedule.
"He made me a blue print for success," Baysinger said of Carter.
As for why the Sunnyside native who now lives in Yakima decided that he wanted to open his shop in the Lower Valley, Baysinger said it was an easy decision to make. He said there are plenty of beauty salons in Sunnyside, but not too many barber shops. He added that he wants to be the barber for the younger generation.
"I want to get it started again," Baysinger said of the barber shop tradition.
Baysinger said he has experience not only using the clippers, but can also give a haircut using scissors.
"I have tons of haircuts [clients] can choose from," Baysinger said. "I pride myself on being a perfectionist."
On the Mark Barber Shop is open Tuesday through Friday from 9:30 a.m. to 6:30 p.m. and Saturday from 10 a.m. to 4 p.m.