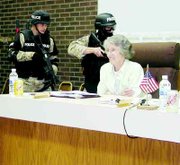 GRANDVIEW - Monday night, the Grandview Police Department's SWAT team stormed the council chambers wearing full protective gear and armed with weapons.
The SWAT team wasn't there to take down any bad guys, though Detective Sgt. Mark Ware did find himself on the ground. Instead, the group was in attendance at Monday night's Grandview City Council meeting to show off some of the new equipment they have been able to purchase with the new voter approved Law and Justice funds.
Grandview Police Chief Dave Charvet noted that the tactical vests each of the officers was wearing were purchased about three months ago using Law and Justice funds. He then passed around one of the old bullet-proof vests officers had been forced to wear before the tactical vests were purchased. Charvet noted that the old vests cover less of the body and don't offer the same protection as the new vests. He then passed around one of the new vests, which weigh in at somewhere between 50 to 60 pounds. Charvet said each of the tactical vests cost about $1,800 each.
Another piece of equipment the SWAT team demonstrated was one of the four new tazers the department purchased using Law and Justice Funds. Officer Mitch Fairchild, a tazer instructor, fired the new tazer into a paper target, showing council members how it sends 50,000 volts of electricity through whoever it hits.
Charvet explained that the tazers give the SWAT team a less lethal method of dealing with different situations.
Charvet said the SWAT team trains on a regular basis working with SWAT members from the Sunnyside Police Department. He said the group of specially trained officers is available when different situations come up, including everything from officers needing to enter a dangerous building to having to take down a meth lab.