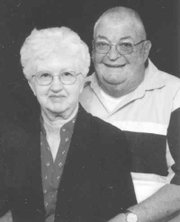 Ellis and Miriam Morgan of Sunnyside will celebrate their 50th wedding anniversary Saturday, June 11, with a family barbecue celebration.
Ellis Morgan and Miriam Carnes were married June 12, 1955 at Calvery Baptist Church in Sunnyside, where they have continued to make their home.
The couple has two children, Doug of the Tri-Cities and Mike of Yakima. They also have two grandsons and two granddaughters and four great-grandchildren.
Mr. Ellis is retired from Valley Auto Parts and Mrs. Ellis is a homemaker.