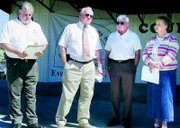 GRANDVIEW - Sitting out under the stars and listening to the tunes of Elvis Presley, Reba McIntyre and Roger Miller may sound like nothing more than a good old-fashioned day dream. But the Sunnyside Community Hospital Foundation is making that day dream into a reality with its upcoming Evening in the Park event.
The new event, which is set to take place Saturday, Aug. 27, at Country Park fairgrounds in Grandview, will include a catered sit-down dinner and Las Vegas-style entertainment, which is where Elvis, Reba and Roger come in. The three will take to the stage in the form of world class impersonators.
Frank Allec, who is helping organize the event, explained that the evening will begin with a social hour at 5 p.m., followed by dinner at 6 p.m. and entertainment at 7 p.m. He added that an auction will take place for a short time during the middle of the event. Also adding to the festivities will be wine and microbrew tasting.
Allec added that Evening in the Park will be an adults only event, with just 250 tickets being made available.
Jon Smiley, CEO of Sunnyside Community Hospital, said the event will not only bring entertainment to the Lower Valley, it will also serve to help raise funds for the remodeling of the hospital's emergency department.
Smiley said the remodeling will include expanding the area to include more treatment areas in the emergency department. He said as it stands now the hospital has eight treatment areas in the department. The remodel will expand that number to 16.
Smiley explained that the Sunnyside Community Hospital Foundation already has $1 million to put to use for the project, which is estimated to cost $2.3 million total to complete. Smiley said the hospital needs to raise the reminder of the funds over the next five years and he is hoping the Evening in the Park event will help make that happen.
Past President of the Sunnyside Community Hospital Board Jim Sewell added that it will be nice to have a hospital-sponsored event in Grandview.
"Sunnyside Community Hospital is a regional hospital for the entire Lower Valley," Sewell said.
He added that Evening in the Park will provide a great opportunity to have another event at Country Park fairgrounds, and will be another way to utilize the facility's amphitheater. Sewell said he is also happy to see Grandview host the kick-off event for the hospital's fund-raising efforts.
Tickets for Evening in the Park will go on sale next Monday and will be available at the Sunnyside Community Hospital gift shop and on-line at www.sunnysidehospital.com. Tickets for the event are $75 each, though people who enter into a five-year pledge of donating more than $25,000 to help the hospital remodeling project will be provided complimentary tickets.