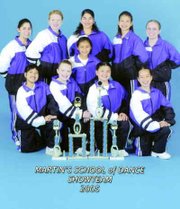 "Around the World in 80...Minutes," the title of this year's spring production staged by the Martin School of Dance students, promises to amaze and wow those who take in one of the two performances.
The Sunnyside dancers-skilled in such forms of dancing as ballet, clogging, jazz, tap and Irish step dances-will take to the Sunnyside High School auditorium stage this Friday and Saturday, June 10-11. The curtain is scheduled to rise at 7 p.m. Friday evening, with a 3 p.m. matinee performance slated for Saturday.
Linda Martin, who owns and operates the Sunnyside dance studio, said tickets will be available at the door both performances. Admission is priced at $6 for adults for $3 for children 12 and under.
As a prelude to this year's spring production, the Martin School of Dance students attended the "I Love Dance" competition held in Portland, Ore.
Martin said the dancers who competed were members of her all-star show team. She said they put in several extra practices preparing for the Portland competition.
Not much of a surprise, based on how well the youngsters have performed in the past, the Sunnyside dancers fared very well in Portland. In fact, two of the groups brought home first place trophies.
In the variety arts competition, the threesome of Monica Martinez, Crystal Rivera and Jazmine Salmeron-dancing to the tune of "High Horse"-placed first.
The other first place trophy snared by Martin's students came in the song and dance group competition. The six girls who earned the top trophy, dancing to "State Fair," included Amanda Cervantes, Shelby Crossley, Jennelle Cruz, Liz Dixon, Alissa Garcia and Veronica Zavala.
The same six girls also were awarded the high score trophy for beginning dancers, and received a second place rosette in the song and dance competition while performing to "Consider Yourself."
In the competition featuring a dance instructor, Sunnyside teacher Cheryl Crossley teamed with Rivera and Salmeron to earn a second place trophy. They performed to the music of "New Millenium."
A second place rosette was also earned by Martinez, Rivera, Salmeron and Jaylyn Cervantes in the variety arts competition, dancing to the music of "King of New York."
In the ballet group performances, the Sunnyside team of Martinez, Rivera, Salmeron and J. Cervantes earned a third place rosette.