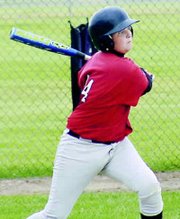 Baseball is a game about putting the basics together. And that is exactly what the Sun Valley 13-14-year-old baseball team did last night in what proved to be a defensive battle.
Sun Valley scored all of its runs in the first four innings to walk away with a 5-2 victory over the visiting Richland No. 3 team.
"It was a defensive game," said Sun Valley Coach Tyler Alseth. "The kids did good."
Richland picked up one run in the first and one run in the third as the five walks Sun Valley pitcher Victor Nunez gave up bit him a bit. Nunez, though, came up huge in the first when with the bases loaded he struck out two consecutive Richland batters.
"When he threw strikes he did a good job," said Alseth of Nunez, who did collect five strikeouts.
Hector Mendez pitched in relief for Sun Valley starting in the fourth inning and shut Richland down the rest of the way, giving up just two hits and one walk while fanning one.
"He has good control," said Alseth of Mendez.
Sun Valley opened the game with two runs in the bottom of the first. Mendez, batting in the lead-off spot, scored off a sacrifice fly from Corey Brundridge. Teammate Travis Jones later scored on a passed ball.
In the second inning, Sun Valley's Jesse St. Clair scored off a passed ball. The third inning saw Jones score again off another sac fly from Nunez. In the bottom of the fourth, Justin Reyes scored on a fielder's choice off a ground ball hit by Matt Omlin.
Each team collected four hits apiece with Lane Pickel, Alex Aguilar, Jacob Salcedo and St. Clair each making contact with the ball.
Walks weren't much off a factor, as Richland gave up seven freebies and Sun Valley allowed six. Alseth said the difference was his team was able to execute the fundamentals, such as playing defense and doing things such as hitting sacrifice fly balls to bring in runs.
Sun Valley (6-3) will be in the Tri-Cities this weekend for a couple of games.