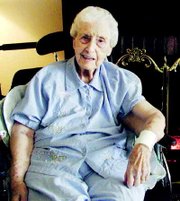 This Saturday, June 11, Gertha Bodley, a resident at Sunnyside's Hillcrest Manor Rehabilitation Center, will be celebrating a milestone. She will be turning 100 years old.
Bodley, who has lived at the local care facility since 1999, will be celebrating with her family at a barbecue and family reunion, something she looks forward to every year, said her niece, Joyce Barrett of Sunnyside.
"We celebrate her birthday every year. We have since she was 82 years old," said Barrett.
The family has made it a combined birthday celebration and family reunion.
The last of seven brothers and sisters living, Bodley's nieces and nephews have been her family, visiting her regularly throughout the years.
This week, family members have been visiting Bodley as she prepares for a weekend of festivities.
Born June 11, 1905, in Little Rock, Ark., at the age of 18, she married her husband, Carroll, in Ottawa, Kansas.
"Carroll's parents had a restaurant and after they were married they worked in the restaurant," said Barrett.
The couple moved to Yakima in the late 1930s after numerous family members and friends came looking for work.
Bodley worked in a mill in Yakima and then for the East Valley School District in the cafeteria for about 10 years.
It wasn't until 1999, after she needed full-time care, that she moved to the Lower Valley.
Although up in age, Bodley still participates in activities at the rehabilitation center.
One thing she has given up, though, is reading, a one-time passion of hers.
"She used to read eight to 10 books every two weeks," said Barrett.
She also has always enjoyed having her hair styled, something she still has done at Hillcrest.
With Bodley being the only of her siblings to reach the 100-year milestone, she still only sees Saturday as, "...just another day."