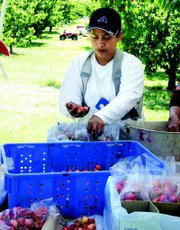 While some farmers are still praying for rain, the cherry farmers are praying that it will hold off, at least a little while longer while picking takes place.
B.J. Thurlby, president of the Washington State Fruit Commission, said that throughout the state early Chelans are being harvested and the Bing variety is expected to get underway in most parts of the state later this week.
However, in the Lower Valley, Bing harvest started Tuesday, according to Barbara Olmstead of Olmstead Orchards, and the first Rainiers started coming off the trees Thursday.
"Early in the spring we thought it was going to be even earlier," said Olmstead, whose family mostly grows Bings and Rainier varieties.
She said the fruit crop looks good, although it is lighter than last year.
Olmstead said they chose to thin some of the blossoms, which has helped increase the size of the fruit, but it hasn't been because of selection that many farmers have found themselves with smaller crops.
According to Thurlby, many farmers in the state experienced a lack of pollination because of the cool, wet spring.
"Bees don't come out of their hives unless it's at least 55 degrees," said Thurlby.
He added that early rain also kept the bees from pollinating the trees.
He said some of the growers have seen some of the most severe drops in production in their history of growing. Pollination wasn't a factor for Olmstead Orchards. Olmstead said there are a few areas where the fruit is lighter than others, but for the most part the crop is good sized.
Thurlby said the cooler weather later in the season has been good for growing cherries.
"It spreads out the harvest and gives them time to mature," said Thurlby.
More maturing time adds to the size of fruit, which he said is something consumers look at when buying cherries.
"Consumers like two-bite cherries versus one-bite cherries," he said. "Hopefully, this year we'll see that larger size."
The weather over the course of the next three weeks will be a factor when it comes to determining just how successful this year's cherry crop is.
Olmstead said if the current weather conditions remain in place through July 4, that would be perfect for harvest.
"We're optimistic about the harvest," said Olmstead. "It's looking good."
Even light sprinklings of rain are welcome, she said, but it is the heavy downpours that farmers want to avoid.
Last season, a heavy rain the night before they were to pick hampered the Olmsteads' harvest.
Between the rain and the wind beating the fruit, she said they battled quality issues all season. So far this year, that's not the case.
In total, Thurlby expects this year's yield to be about 9 million boxes, compared to the 11 million the state usually produces.
"That's still a good crop," he said, adding that California only yielded 2.5 million boxes this year.