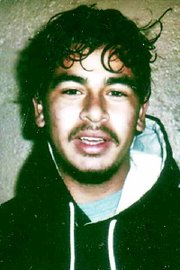 The Yakima Sheriff's Office is assisting investigators from the Redwood City, Calif. Police Department in an attempt to locate a man wanted for murder, who may have Lower Yakima Valley connections.
Information is being sought regarding Guadalupe Ceja, AKA Lupe Ceja, who is being sought on a $1,000,000 warrant issued by the Redwood City Police Department for a gang-related murder, according to Stewart Graham, a Yakima County Sheriff Department spokesman.
Persons with information regarding the whereabouts of Ceja, who is described as a 28- year-old, 5'7" Hispanic male are urged to contact the Yakima Sheriff's Office at 574-2500 or call toll free at 1-800-572-0490.