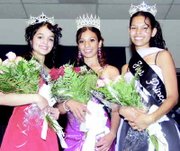 MABTON - After an evening filled with colorful dance routines, rousing singing performances and nerve wracking impromptu questions, a new Miss Mabton was crowned Thursday night.
Mayra Diaz will spend the next year as the reigning Miss Mabton, along with First Princess Anabel Diaz and Second Princess Kai' Lei Partida. Mr. Mabton Derek Gonzalez announced during last night's pageant that he will continue his reign for another year, as well.
The group of young ladies was chosen after a long night that included competing in several different categories, including casual wear modeling, talent, evening gown and impromptu question.
To get the night off to a rocking start, the girls, each outfitted in country western attire, came out for a group dance performance. Wearing blue jeans and cowboy hats, the five Miss Mabton contestants turned up the energy, getting the crowd excited for what was to come.
During the talent portion of the evening, each of the contestants, which included Celida Diaz, Partida, Maria Ramos, Mayra Diaz and Anabel Diaz, put their best foot forward.
Celida Diaz performed a hip-hop dance routine to the "Bad Boys Remix," while Partida performed an interpretive hula dance. Partida, wearing a sarong and a flower in her hair, swung her hips and made graceful arm movements, transporting the crowd to the islands.
Ramos took up the entire stage as she performed her traditional folklorico dance. Decked out in a bright yellow dress with a long flowing skirt, she twirled and turned, while keeping her footwork fast paced.
The new Miss Mabton Mayra Diaz performed a freestyle dance routine during the talent portion of the pageant, while Anabel Diaz put her vocal talent to work, singing a Spanish language song.
"As you can see there is plenty of talent to go around in Mabton," said the emcee for the evening, Fabian Castilleja.
After modeling a wide range of evening gowns, it was time for the impromptu question portion of the night. Castilleja had each of the contestants reach into a fishbowl to retrieve their own question.
"The fish bowl of fate, I like to call it," Castilleja said, gesturing toward the round bowl filled with five questions.
Celida Diaz carefully reached into the bowl and retrieved a question that asked her where she would live, if she could live anywhere.
"I would live here," Diaz said. "This is the place I know the best...it's a big family...I wouldn't want to live anywhere else."
Partida found herself being asked what advice she would give a friend who was thinking about running for Miss Mabton.
"I would tell my friend that it is a great experience," Partida said.
Ramos was asked what she would do to be a good role model if she was chosen as Miss Mabton. Ramos said she would help try to bring in more activities for children to be involved in.
Mayra Diaz found herself facing the question of what she would do to better the community if she was chosen as Miss Mabton.
"I'd get the community involved more," Diaz said. She added that she would also like to see a community center created where children could hang out after school instead of getting into trouble.
Anabel Diaz was asked to tell the audience why she chose to run for Miss Mabton.
"It was because I have a little sister who looks up to me," she said.
Before the Miss Mabton court was crowned, Castilleja announced the winners of the Miss Congeniality and Miss Photogenic awards. Castilleja explained that each of the contestants voted to select the Miss Congeniality winner, which was Partida. The Miss Photogenic award winner was selected by Ken Allen Photography and was Anabel Diaz.