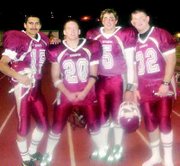 This weekend's big clash between the Tri-City Knights semi-pro football team and the Yakima Mavericks will feature several local faces.
Sunnyside High School graduates Guillermo Garcia Jr., R.J. Elizondo, Ryan Cullen and Derek Gillis are all members of the Knights team.
The Knights, who can boast an impressive 7-2 mark, will be playing at Zaepfel Stadium at Eisenhower High School this Saturday at 7 p.m. The Knights will be playing the Yakima Mavericks (8-1) with the winner advancing to play in the Evergreen Bowl, which is the local semi-pro football league's equivalent to the Super Bowl.
The Knights and the Mavericks both play in the Evergreen Football League.
The last time the two teams met was on April 2, when the Mavericks squeaked out a 6-3 win over the Knights in the Tri-Cities. The only other loss of the season for the Knights was a 43-40 defeat on April 30 to the State Line Miners.
The Mavericks' only loss of the season was a 27-26 defeat at the hands of the Wenatchee Rams on June 4.
Elizondo (#20), a standout at Sunnyside High School, is playing at the running back spot for the Knights. Cullen (#5) is on the roster as a quarterback. Gillis (#32) is playing on the defensive line. Garcia (#15) is a safety and plays on special teams.
Garcia is dedicating his season on the Knights to all of the Grizzly football players he stood beside on the field during his senior year in 1995. Garcia is especially dedicating his season to former classmate Errol Manza. Garcia has a strip of medical tape on his shoe sporting the number that belonged to Manza while in high school. During their senior year, Manza was hurt and had to miss the rest of the season. Garcia didn't know the extent of Manza's injury. He told Manza he would take the tape off when he returned to the field. Manza was never able to return and died a year later. Garcia has never taken the piece of tape off his shoe in honor of his friend.