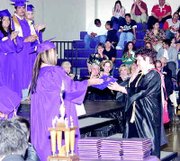 MABTON - If there was one common theme at this past Friday night's Mabton High School graduation ceremony, it was that the 30 members of the class of 2005 are ready for life.
"We are here today to celebrate and recognize the successes of our students, the class of 2005," said Mabton School District Superintendent Sandra Pasiero-Davis. Pasiero-Davis, who is just finishing her first year as Mabton superintendent, conducted her speech in both Spanish and English before a capacity crowd.
Pasiero-Davis also praised the efforts of the parents and staff of the Mabton School District, as they helped in making it possible for the seniors to reach their goal of graduating.
The Mabton superintendent then shared with the graduates how she felt on the day she left high school.
"I was anxious," said Pasiero-Davis. "I was filled with hopes and dreams."
Pasiero-Davis said she quickly realized what she learned in high school was that she had worked hard to obtain the skills necessary to enter the world.
"You also are prepared," Pasiero-Davis told the 2005 graduates.
The class of 2005 picked Mabton Junior/Senior High School science teacher Jesus Sustaita as its class speaker this year.
"Take a look at each one of them," said Sustaita of the graduates. "They are all filled with excitement because this is their night to shine."
Sustaita lightened up his speech by pointing out a highlight for parents that graduation marks the day where they can officially run their children out of the house.
Sustaita, though, switched back to when he first met the members of the class of 2005 in their eighth grade year.
"I was a student teacher at the time and I didn't know what I was doing," smiled Sustaita.
Sustaita shared how he didn't pass up a job offer from Mabton Junior/Senior High School Principal Keith Morris, following his student teaching experience.
"I knew I was meant to be here in Mabton," said Sustaita.
Over the years, Sustaita said, he has watched the class of 2005 mature as young men and women.
"In the past few years I have laughed with them and I have cried with them," said Sustaita.
Sustaita ended his speech by encouraging the class of 2005 to be proud of what it has accomplished, as the graduating seniors rose to the challenges before them.
"I hope that you take many memories from Mabton High School," said Sustaita. "I feel that a piece of me is leaving with you. You will always be my eighth graders. Be proud of your accomplishments and hold your head high."
Mabton High School Salutatorian Michelle Tellez talked about how the class of 2005 has been through its share of ups and downs.
"We will not forget all the years we have shared," said Tellez.
Tellez spoke on how whatever the class of 2005 faces in the future it will meet head on because it has the heart, determination and desire to tackle any challenge.
"I believe the class of 2005 has the biggest heart ever," said Tellez. "We have made it this far and we will keep going."
Valedictorian Ryan Harris talked about the success the class of 2005 has had in the past. Harris also felt the class motto represented the graduating students well, noting the motto talks about following different paths in life while remembering friends, laughter and the pain. Harris also talked about how the class of 2005 will be able to follow its dreams in the future and how the graduating students are well prepared for life thanks to the time they have spent at Mabton High School.
"Now the day has finally come for us to go our separate ways," said Harris. "I wish everyone the best of luck."