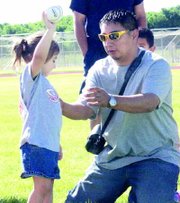 A packed house crowded the Sunnyside High School track this past Saturday for the Sunnyside Recreation Department's annual Pee Wee track and field meet.
It was a common sight this past Saturday to see parents very involved with helping their children to do their very best in each event.
The Pee Wee track and field meet was open to youngsters between the ages of 1 and 8. The youngsters had a chance to participate in such events as the 50, 100 and 200 meter dashes, softball throw and standing long jump. There were first, second and third place award ribbons given out, as well as ribbons for recognizing those who participated.
The results from the Pee Wee track and field meet were not immediately available from recreation department officials.