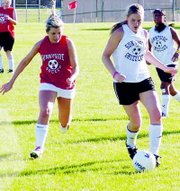 They might not be as conditioned as they were when they played for Sunnyside, but alumni members of the Sunnyside High School girls soccer team showed they still have a few things going on.
The Lady Grizzly varsity girls soccer team was the host for the fourth annual alumni game held this past Saturday night at the high school football field.
The Sunnyside girls varsity put together a strong first half to come away with a 3-1 victory. Scoring for the Sunnyside varsity squad was Cassie Jolliff, Yanet Candido and Gloria Galvan. Darcy Melle had the lone goal, which came in the second half, for the alumni.
"It went really well," said Sunnyside girls varsity coach Kathy Jolliff, who organized this year's alumni game. "I wish I had gotten more publicity for it. I think people would have enjoyed coming out to watch."
Jolliff said it is still fun to watch the alumni players turn out for the game and see that they still have their competitive spirit.
Jolliff said she also enjoys the alumni game because it gives her a chance to see some of the players she used to coach a few years ago.
Jolliff said the competitive spirit of the players is something that she particularly enjoys. It is also fun to see the variety of alumni players turning out. She cited how life has changed for some of the former girls soccer players. She noted class of 1999 members Yadira Valencia and Angela Ashley are now proud parents of three kids apiece, but still wanted to take part in the game. Other alumni members, such as class of 1996 graduates Sarah McDonald (Lind) and Katie Carter (Curfman) traveled from Hermiston and Port Orchard to play in the game. Jolliff noted that Curfman also has two kids, but still wanted to play in the game.
Alumni players for this year's soccer game include:
Class of 2004: Amy Rubio, Laura Lopez and Lupita Aguilar.
Class of 2003: Susanna Gudino and Megan Kinsey.
Class of 2002: Ashley Jongsma.
Class of 2001: Cindy Ramales and Maria Aguilar.
Class of 1999: Yadira Valencia and Angela Ashley.
Class of 1998: Angelica Mendoza and Darcy Melle.
Class of 1996: Sarah McDonald (Lind) and Katie Curfman (Carter).
Also part of this year's alumni team was Sylvia Villigrana (Montoya).
Jolliff said next year's alumni game will be held the first Saturday following the Sunnyside High School graduation ceremony.