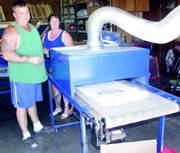 Sunnyside's Ace Hardware store, along L&M Screenprinting, have joined forces to raise funds for Sunnyside's annual Come Back to the Country Fourth of July fireworks celebration.
The funds from the sale of colorful t-shirts will benefit the fireworks display being organized by the Sunnyside Lions Club, said Carol Stone, a Lions Club member.
Stone, who is a spokesperson for the 2005 fund-raising drive, said Larry and Marietta Schmid of L&M Screenprinting created a run of 100 t-shirts to launch the fund-raiser. The Sunnyside couple spent most of Friday afternoon at their Ray Road print shop finishing work on the colorful t-shirts with its special "Sunnyside Fourth of July" logo, designed by Mrs. Schmid.
The shirts are now on sale at Ace Hardware in the Eastway Shopping Center. The shirts, which are expected to sell for $10 each, come in adult and child sizes.
The Sunnyside Fourth of July fireworks celebration will mark the end of a weekend of activities, which will include the annual Welcome Back to the Country Soap Box Derby to be held at Central Park on Saturday, July 2.
The Lions' fireworks display will be held at Sunnyside High School Clem Senn Stadium Monday, July 4, at dusk.
Fireworks organizers are planning a 40-minute show this year, thanks to the generous contributions of the community, Sunnyside Chamber of Commerce and Sunnyside City Council.
Stone said the Lions have hired Eagle Fireworks of Kent to stage the pyrotechnic display, which promises to be the biggest and best one to be seen in Sunnyside in the 10 years the Lions have organized the event.