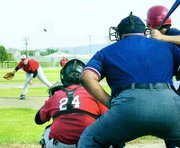 Winners of two of its last three games, the Sunnyside Sun Valley 13-14-year-old baseball team improved to 8-4 on the season.
This past Friday night, Sun Valley traveled to the Tri-Cities to take on Sun Down Marine, winning 21-9.
Travis Jones got the start atop the mound for Sun Valley, putting in three innings of work. Jones gave up three hits and fanned two while walking five. Jones had his share of problems in the first inning, when he allowed four runs. He also had three walks in the first inning. However, Jones had back-to-back 1-2-3 innings in the second and third. Justin Reyes tossed one inning of relief in the fourth, allowing two hits and three walks. The Tri-Cities team scored five runs in the fifth. Victor Nunez finished the game off with a solid effort, striking out three while allowing one hit and one walk in two innings.
"He did a good job," said Sun Valley Coach Tyler Alseth of Nunez.
Sun Valley had a solid game across the board, plating two runs in the first, second and fifth innings. Sun Valley had a huge seven-run third inning and finished the game off with an eight-run sixth. Oscar Hernandez had a two-run single in the third and Brundridge had a two-run single in the sixth.
Sun Valley collected 21 hits and played perfect ball on defense, committing no errors.
"The kids put some big hits together," said Alseth.
Jones and Reyes both had huge days, going 4-for-4 at the plate. Jones had 5 RBIs in the game. Corey Brundridge was 3-for-5 with 4 RBIs. Jesse St. Clair went 3-for-4. Roger Perales and Hernandez were both 2-for-2.
On Saturday, Sun Valley traveled to the Tri-Cities again to play a tight game with Control Tech Services, which it split with earlier in the season.
Playing as the home team, Sun Valley won the six-inning game 7-3. The game was called due to a time limit because another game had been scheduled on the field.
Brundridge had a sensational game on the mound, striking out 11 in a complete came outing. He gave up five of his eight hits for the game in the first two innings. He also allowed four walks.
"He had really good stuff," said Alseth.
Brundridge was also 2-for-3 at the plate with an RBI double in the first and RBI single in the fourth inning. Teammate Jesse St. Clair was 1-for-2 with a two-run single in the fourth.
Yesterday afternoon (Monday), Sun Valley had a bit of a letdown, getting hammered by visiting Prosser 14-2.
Alseth said he wasn't too disappointed, as his team has played well over the last few games.
Sun Valley committed four of its seven errors for the game in Prosser's 11-run fourth inning. Sun Valley also gave up six walks in the frame.
St. Clair scored both of Sun Valley's runs, coming in the second and fifth innings and was 2-for-2 at the plate.
Sun Valley travels to West Richland for a game tonight (Tuesday).