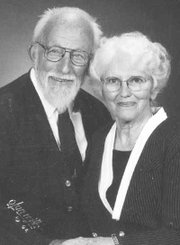 Nick and Norma Friend of Sunnyside will celebrate their 50th wedding anniversary later this month.
Nick Friend and Norma Omta were married June 30, 1955 in Sunnyside. The couple farmed cherries, gladiolus and peonies. Mr. Friend retired from Carnation, while his wife retired from the school district, where she worked as a para-educator.
The couple has four children, Nick Friend Jr. of Grandview, Judy and Ron Boersma of Portland, Nanci and Jim Campbell of Sunnyside and Jim Friend of Los Angeles. They also have six grandchildren.
The Friends will celebrate their golden anniversary with an open house on Sunday, June 26, from 1 to 4 p.m. at Snipes Mountain restaurant in Sunnyside. Friends and family are invited to attend the celebration being hosted by the couple's children.