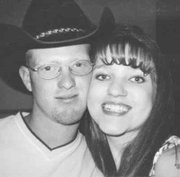 Ashlee Darlene Fey and William "Bill" Ryan Mandrell are happy to announce their engagement.
The bride-to-be is the daughter of Jack and Sue Kitt of Sunnyside. She is a 2004 graduate of Sunnyside High School and a 2005 graduate of Yakima Valley Community College. This fall she plans to transfer to Washington State University in the Tri-Cities.
The bridegroom-to-be is the son of Bill and Gloria Mandrell of Sunnyside. He received his GED from Yakima Valley Community College in Grandview.
The couple will be wed on Saturday, June 25, at 6 p.m. at the Sunnyside home of Bill and Gloria Mandrell.