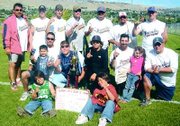 WENATCHEE - Winless on the first day of the Grip It & Rip It Men's Slo-pitch Softball Tournament in Wenatchee last weekend, the Aztlan Sportswear Brown Sox stormed back on Sunday to win championship honors.
The Sunnyside club lost all three of its games on Saturday, and in the process earned the bottom seed into Sunday's single elimination round. Perhaps spurred by the embarrassment of Saturday's showings, the Brown Sox rallied for three straight victories on Sunday to claim the tourney title.
In Sunday's championship contest, the Brown Sox avenged Saturday's 36-16 loss to Mission Electric by defeating Mission Electric the second time around, 11-5.
"It took being totally humiliated Saturday to spark us (Sunday)," said Brown Sox Coach Bob Sarmiento Sr.
"Our defense was excellent and the bats were on. It was a tremendous victory for our team," Sarmiento added.
The Brown Sox opened single elimination play Sunday by knocking off Perfection Tire, 15-9. In their second game Sunday, the Sunnyside players won by the same score against Barnhart Jewelers. That victory propelled the Brown Sox into the tournament title contest.
The Aztlan Sportswear team is playing up a division this summer, after having placed fourth at the 'E' Western World Tournament last season. Sarmiento said the comeback by his team on Sunday left no doubt in his players' minds that they will be able to compete at the higher level this year.
Aztlan Sportswear's Lino Gutierrez was named the MVP of the Wenatchee tournament. Teammates Kevin McClure, Andy Carrizales, John Ashley and Joe Gutierrez were named to the tournament all-star squad.