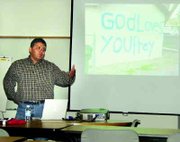 There are anywhere from 25 to 30 gangs trying to make their mark in the community of Sunnyside. Last night, local residents had an opportunity to learn about some of the different characteristics of gangs from two people who deal with them on the front line.
Sunnyside School District Security Liaisons Fidel Partida and Dan Pacheco made a presentation on the ever-present gang problem in the community.
Both men have seen the ups and downs of how gangs can wreak havoc on a community. Pacheco has 15 years of experience working at the high school, dealing with such issues. Partida has 11 years of the same experience. After working many years at the middle school, Partida now works with elementary school children at Outlook Elementary School. Both men were heavily involved with trying to clean-up the schools when the community had a severe gang problem several years ago.
"A lot of the stuff we see here we are seeing in the schools," said Partida referring to the information that was going to be in his presentation. "The kids are always hiding the way they do things. We want to raise your awareness," he told the meager crowd.
A gang is defined as a group of three or more individuals who associate on a regular basis, often being involved in criminal activity, explained Partida.
"A lot of these kids are just looking for someone to guide them," said Partida.
Partida pointed out the fact that many parents have no clue their children are involved with a gang until it is too late.
"Gang involvement doesn't happen overnight," said Partida. "It is a gradual process and if you are alert you will see the signs."
Partida said parents and associates should look for such warning signs as a gradual change in personality and a lack of interest in school. Another sign of possible gang involvement by a child is a lack of hobbies or too much unsupervised time. Other tell-tale signs include a fascination with gangs, problems at home, gang affiliations and negative contact with police.
"Gang involvement begins as early as elementary school," said Partida.
What is referred to as the old gangsters (OGs) are the ones that do the recruiting of kids, often as young as 7 or 8 years of age, explained Partida.
"The older OGs are the ones that run the show," said Partida.
He detailed how the OGs know the juvenile laws and often exploit those to the gang's advantage.
"When you are dealing with a juvenile the laws are totally different," explained Partida.
The reasons for becoming involved with a gang can vary, explained Partida. Some youths are looking for respect and power while others have personal problems or low self-esteem.
Partida detailed a girl's role in gangs. Girls are often involved with gangs either as a girlfriend or on a direct basis. The initiation process for girls often includes sexual assault, said Partida.
The initiation process for boys can differ vastly. Certain gangs execute a beat down of a new gang member. This is where a wanna-be gangster is surrounded in a circle by the OGs and is beaten down for anywhere from one to three minutes.
"That individual is not allowed to fight back," said Partida. "The initiation is different in all gangs."
The color of gang members' clothing is also key to identifying possible affiliation, said Partida. There are other identifying characteristics of a gang member, such as the style of pants worn or the type of belt to the style of shoelaces. Partida said the method for declaring gang affiliation can vary. A common brand of pants worn by gang members include Dickies and are often worn in a baggy manner. Gang members are also commonly seen with certain buttons on their shirts closed, particularly the top button. The method in which a gang member has their shirt buttoned can declare affiliation, said Partida.
"The gang look is meant to intimidate those who are not in a gang," said Partida.
He did explain it is important to be educated on the different styles and mannerisms of gang members to prevent stereotyping.
In the school system, documentation of gang activity is important. Partida said a lot of documentation of a student's gang affiliation is needed, not only for legal reasons, but it comes in handy when confronting parents with the issue. He said many parents won't believe their child is affiliated with a gang unless they see the documentation.
"They must get involved and become aware," Partida said of the parents.
Contrary to popular belief, most gang members do not come from single family homes, said Partida. He said a major issue with children becoming involved with gangs is they come home from school to an empty home and are missing that family connection, which they usually find in a gang.
He encouraged parents to talk with their children about gangs and discourage them from hanging around gang members.
"Put a high value on education," said Partida. "Praise them for doing well. Know what your children are doing and who they are with."
Other signs that children may be involved with gangs include the way they wear and the color of their hats. Tattoos are also a big sign of gang involvement. Some of the common gang tattoos include a happy/sad face, teardrops or three dots that stands for "My Crazy Life."
Gang members usually go by different monikers, said Partida. He said that many members in opposing gangs wouldn't know one another by any other name than their gang nickname.
Partida said gang members draw graffiti because they are trying to draw their lines. He said that many times gangs use graffiti to challenge one another or show disrespect. He said the best thing the community can do is call the police when they see graffiti, and then after it has been documented by the authorities have it removed as soon as possible. Partida said it is important to have the graffiti removed soon because other gangs will come in and mark across it.
Some of the reigning gangs in Sunnyside include two of the largest and more dominate groups in the city, the Little Valley Locotes (LVL) and Bell Garden Locotes (BGL). Other gangs include the Nine Dueces, West Side Pomona and The Ghetto Boys.
"The way we can beat this is through early intervention," said Partida. "That is how we are winning the war on gangs in the school."