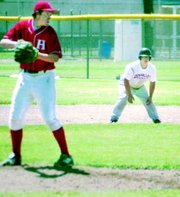 After a disappointing twin bill loss to West Valley earlier in the week, the Sun Valley 16-18-year-old baseball team bounced back Wednesday afternoon with a solid victory over visiting Hermiston, winning 5-4.
"Our pitching was much different," said Sun Valley Coach Dave Martinez.
In the games against West Valley, the starting pitching for the Sunnyside team was beat up a bit. While not overpowering yesterday, Sun Valley's pitching staff posted a gritty effort to get the win.
Gibby Briones got the start on the mound, working three innings for Sun Valley. Briones allowed three of Hermiston's five hits and walked one batter. He also had two strikeouts. Briones was charged with two runs, one of which was unearned in the top of the first. Teammate Cole Boboth tossed in relief and was nearly able to finish out the game before running out of gas in the top of the seventh. Boboth went 3-1/3, fanning two while allowing one hit and a walk.
Boboth got into some trouble in the top of the seventh. With one out, Boboth gave up a walk and then a single before Martinez pulled him for closer Joel Zakahi. Hermiston scored a run when one of its batters hit a first pitch from Zakahi to right field. Then with two outs, following Sun Valley catcher Diego Burgueno throwing out a Hermiston runner at second base, Zakahi struck out Hermiston's number six batter to get out of the inning.
Sun Valley was down 4-3 going into the bottom of the seventh. Following an intentional walk to Lucas Ramos to load the bases, Gibby Briones tied the game for Sun Valley by scoring off a passed ball. Then with two outs and the bases loaded, Timmy Briones was hit by a pitch on a 2-2 count to bring in Boboth for the winning run.
Timmy Briones, who went 2-for-3 on the afternoon, also laid down a squeeze bunt in the bottom of the sixth to score a run that put Sun Valley ahead 3-2.
Martinez credits the win in part to solid pitching.
"When our pitchers aren't walking the bases that gives us a chance," said Martinez.
Martinez also felt his team executed critical plays at the right time. Sun Valley had four sacrifice bunts and one squeeze bunt in the game.
Sun Valley (3-4) will be off for a week before hosting West Valley on June 21. Game times are 3 and 5 p.m. at the high school baseball field. Sun Valley will then be in a tournament at West Valley starting June 23.
1 2 3 4 5 6 7 T H E
Hermiston 1 0 1 0 0 0 2 4 5 0
SV 0 0 2 0 0 1 2 5 8 3
Pitching-Gibby Briones three hits, two strikeouts, one walk in three innings. Cole Boboth two strikeouts, one hit, one walk in 3-1/3 innings. Joel Zakahi one hit, one strike out, one walk in 2/3 innings.
Hitting-B.J. Miller 1-for-2 with a double in the second inning. Gibby Briones 1-for-2 with two walks. Diego Burgueno 1-for-2. Timmy Briones 2-for-3 with 2 RBIs. Joel Zakahi 1-for-3. Zach Marquez 1-for-3.