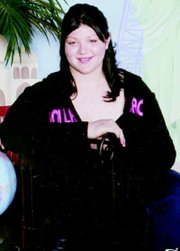 Tina Elliott is desperately searching for her daughter, Angela Martinez.
Martinez, 14, has been missing since Wednesday afternoon, vanishing from her home about 30 minutes after coming back from the movie theater in Sunnyside.
"She has not called," said Elliott.
She is concerned that a white van-type vehicle may have something to do with the disappearance of her daughter. She said this past Monday, a white van was seen driving away from her daughter when she was out walking on the family's property on Factory Road. Elliott's son also saw a similar type vehicle drive away from her daughter Wednesday at the movie theater in Sunnyside.
Elliott said her son and her daughter went to separate movies on Wednesday and when her son came out he saw the van pull away from his sister. Elliott, who wasn't home at the time her daughter disappeared from the house, said that her family noticed nothing strange about Martinez when she came home from the movies around 5 p.m. or so. None of Martinez's items were missing from her room, said Elliott.
Martinez stands 5'9", and has hazel eyes. She is a natural blond, but died her hair back. Elliott said her daughter's blond hair is starting to come back in the center. Martinez also has a scar on her left hand from a cut she received and wears a butterfly ring on her right hand.
Anyone with information on Martinez's whereabouts is asked to call one of these phone numbers: 837-4936, 837-3593, 830-4054 or 830-8709.