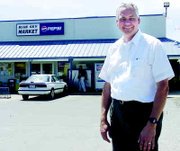 MABTON - When the Mabton Community Days Parade makes its way down Main Street this Saturday, Mabton's Blue Sky Market owner Mike Meyer is going to be leading the charge.
Meyer will serve as the grand marshal of this year's Mabton Community Days Parade.
Meyer has been a member of the Mabton community for just four years, but during that time he has become an integral cog in the clockworks of the city.
What first brought Meyer to town was a burnt down shell of a building located on the corner of Main and North streets. The four blackened walls and a partial ceiling tugged at Meyer's imagination. Looking around the building Meyer, who already owned Blue Sky Market in Toppenish, knew that he could create a viable grocery store for the small town.
Meyer said he first heard about the Mabton store through his insurance agent. He explained that his agent also provided insurance for the Mabton store, which had just burnt down. Meyer said his insurance agent told him that the owner of the fire ravaged building didn't plan to reconstruct the grocery store.
Meyer said at that time he had been in Toppenish for four years and felt he was ready to expand. He explained that he first purchased the Toppenish store in 1997, adding a laundry mat facility in 2000.
"It did really well," Meyer said of the combination. He added that he saw the potential for that same type of growth in Mabton.
He said when he first opened the doors of Mabton's Blue Sky Market he knew it wouldn't be a simple grocery store for long. He planned to give the community time to get used to the new store before he added a laundry mat, which just opened in January 2005.
But Meyer doesn't just offer his customers a place to wash their clothes, pick up their groceries, get fresh deli foods and select colorful produce. He did something a little different in Mabton. Meyer added a mini-storage facility to his property.
"I saw there wasn't (a mini-storage) and asked a few questions of my customers," Meyer said. He added that most of the people he asked thought a mini-storage facility would be a pretty good idea.
Meyer now has a 22-unit storage facility located adjacent to his grocery store.
Meyer has accomplished a lot in the eight years he has been a grocery store owner in the Lower Valley. But Meyer's history in the grocery business goes back much further than the last decade.
Meyer, who grew up in California, said he was 11-years-old when he got his first job in the grocery industry. He worked cleaning the parking lot of a grocery store near his home in Stockton.
Over the years, Meyer slowly started working his way up the ladder at the same grocery store until he became the store's assistant manager at the age of 16.
"I always liked the business," Meyer said of working in groceries.
But working six to seven days a week soon got the best of Meyer. He said he got burned out when he was about 18-years-old.
After a brief hiatus from the grocery business, Meyer spent several years working in the logging industry in Idaho, he once again found himself behind the cash register at a grocery store in Pullman. It wasn't long before Meyer was promoted to the store's fourth manager position.
Meyer said the person who hired him to work in Pullman later decided to open a store in Pasco and asked Meyer to work at the new store. Meyer started in 1979, working his way up to store manager in 1983.
Meyer served as the store manager for 13 years.
"My goal was to have my own store by the time I was 40," Meyer said.
It was that goal that ultimately led Meyer to the Toppenish grocery store, which he purchased at the age of 39.
Meyer said he is happy to be serving as Mabton's grand marshal.
"It's just always smart to put back into the community as much as you can," Meyer said of his business philosophy.
The Mabton Community Days Parade will take place this Saturday. The parade, which will follow a new route. begins at 11 a.m. at Artz-Fox Elementary School. The parade will head along Washington Avenue to Main Street, then head south on Main Street to North Street, finishing at the high school parking lot.
Although the parade is Saturday, Mabton Community Day events begin tonight with a community barbecue at 6 p.m. in Feezell Park. The Pony Boys will play from 8 to 11 p.m.
Saturday morning events will kick off with the fireman's breakfast from 7 a.m. to 10 a.m. at the Mabton fire station. Following the parade, the festivities will continue in the park with the Vikettes performing at noon and the Grizzliettes performing at 1 p.m. At 2 p.m. Tara and Trina Collins will take the stage, followed by kids karaoke at 3 p.m. At 5 p.m. a trio of singers from Prosser will offer up a rock, alternative, country music blend. Sunnyside rapper J-Lee will take to the stage at 7 p.m. and from 8 to 11 p.m. the stage will be open for karaoke in the park.
Community Days will continue Sunday with a variety of other activities in the park.
.