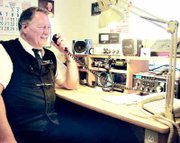 To help recognize Amateur Radio Week, which is June 19-26, the Lower Valley Amateur Radio Club will be holding a field day at the Grandview High School football stadium.
The event will start at noon on Saturday, June 25, and run through noon the following day.
"We hope that anyone who is interesting in seeing what amateur radio is all about will come out for field day," said club President Jim Martin.
The Lower Valley Amateur Radio Club has members from Toppenish to Prosser.
During amateur radio week, enthusiasts will put on demonstrations and participate in other activities to raise awareness of amateur radio. The week long event culminates with field day, which is sponsored by the American Radio Relay League, the national association for amateur radio enthusiasts. The event in Grandview will include on-air demonstrations and emergency preparedness activities.
Field day was designed to test operators' abilities to set up and operate portable stations under emergency conditions, such as the loss of electricity.
"We want the community to know that in the event of an emergency, we will be ready to assist in any way we can," said Martin. "While people often think that cell phones or other communications technologies have replaced ham radio, we can provide an important communications service that others can't."
Martin detailed how during such events as the tsunami last December and the Sept. 11, 2001 attacks, ham radios were still working during those tragic events.
"Field day is a serious test of skill, but it is also a contest for fun and the largest on-air operating event each year," said Martin.
More than 30,000 amateur radio operators from the United States and Canada participated in last year's event.
There are more than 670,000 amateur radio operators in the United States and more than 2.5 million worldwide.
For more information on the Lower Valley Amateur Radio Club or the June 25 event, call Martin at 830-4158 or email him at jlmartin@bentonrea.com. Information on the American Radio Relay League is also available at www.arrl.org/newham.