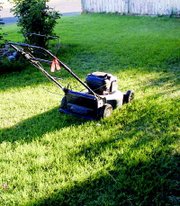 The season of missing lawnmowers is upon us. Lawnmowers temporarily left idle in neighborhood yards are beginning to randomly disappear from people's yards, sometimes in the time it takes to a person to go inside for a glass of water.
But barely cooled down push- type mowers aren't the only favored object of thieves. Riding mowers, even those locked in back yard sheds, are disappearing at an alarming rate, said Sam Ramos, Sunnyside police officer.
Ramos said the Sunnyside Police Department has seen an increase in the number of reports of lawnmower thefts in recent weeks.
Lawnmower theft is a crime of opportunity, explained Ramos, who also serves as the department's crime prevention officer. He said as the warm weather continues more people may find themselves the victims of the yard thieves.
Last year, residents reported 21 cases of missing mowers during the height of the mowing season. So far this year, 14 reports of mower thefts have been reported to the Sunnyside Police Department.
Home owners are not the only victims of the mower thieves, Ramos said. Last week, a local nursing home employee found two mowers and a weed eater taken from a storage shed. "Thieves broke a lock to obtain entry," Ramos said.
Even the local lawnmower dealerships and department stores have noticed the upswing in the number of missing lawnmowers.
"We have had a lot of people coming in seeking information about replacement costs for lawnmowers," said Kim Dirks of the Sunnyside Sears Store.
"We have had people coming in seeking replacement costs for their missing riding mowers," she added.
"Our customers tell us that mowers and tractors are disappearing in broad daylight," said Dirks.
"People just walk off with them," she said. "That's the thing I don't understand," she said.
So what can homeowners do to slow down the robbers? Ramos suggests residents make sure they keep mowers out of sight when not in use.
Even so, he added, that is no assurance that the thieves won't break into sheds or garages to take what they want.
"But if you have copies of the make, model and, most importantly, the serial number of your property, we may have a better opportunity of recovering it," he added.
He said the mowers rarely are resold locally. "Thieves usually take them out of town," he said.
Ramos said one way to cut down on residential thefts and break-ins is for neighbors to form block watches.
"Be alert to any suspicious people seen in their neighborhoods.
"Be aware and take down the licenses plates of unfamiliar vehicles see in your neighborhoods.
"Don't hesitate to report them to us," Ramos said.
In addition, he suggested neighbors pay attention to unfamiliar neighborhood visitors' physical description and clothing.
"Any information residents can give us will aid in the recovery of stolen property, as well as the possible arrest of the thieves," Ramos added.