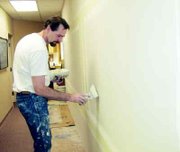 Doctors working at the office located on the corner of Edison Avenue and South 11th Street will soon find themselves with a little more room to maneuver thanks to a remodeling project that is taking place.
Sunnyside Community Hospital CEO Jon Smiley explained that the remodeling happening at the office, which houses Drs. Robert Kim and Steven Elerding, will bring a Medicare certified procedure room to the practices.
According to the Sunnyside Building Division, Sunnyside Community Hospital was issued a permit for the remodeling project on May 19. The permit fee for the project was $1,533.
Smiley explained that the Medicare certified procedure room is being created by expanding the procedure rooms the physicians already had in place. He said once the remodeling project is complete and the room has been certified by the state for Medicare procedures, doctors will be able to begin collecting a facility fee from Medicare for procedures done in the remodeled room.
According to Smiley, the procedure room is used to conduct minor procedures such as colonoscopies.
Smiley added that the remodeling project falls under the auspices of Sunnyside Community Hospital because the hospital holds the master lease for the property at 500 S. 11th St. The office is being subleased to the two doctors who occupy the space.
Also taking on a remodeling project during May was Yakima Chief Inc. at 555 W. South Hill Rd.
Sunnyside Building Inspector Mike Storms explained that the project will bring additional lab space to the facility. The cost of the building permit issued for the project was $1,647.
Another area where the City of Sunnyside saw some changes last month was in housing. The Sunnyside Building Division issued eight permits for the construction of single-family homes. Of those, six permits were issued to Aho Construction, which is building the new subdivision off of the Mabton-Sunnyside Highway.
The permits issued for the projects at Sunnyside Community Hospital, Yakima Chief Inc. and for the construction of new homes by Aho Construction are just a sample of the projects that were started in Sunnyside last month.
In May, the Sunnyside Building Division issued 100 permits, including 24 building permits, 13 mechanical permits and 16 plumbing permits. Thirteen permits were issued to the public works department during the month, each for curb, gutter and sidewalk work. An additional eight permits were issued for the installation of water meters, and eight other permits were issued for both water connection and sewer connection. Local building inspectors were kept busy last month, performing 294 inspections on new projects with a valuation of more than $1.5 million.