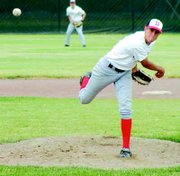 An outstanding pitching performance from Cole Boboth went for naught, as the Sun Valley 16-18-year-old baseball team wasn't able to hold on last night in its game against visiting West Valley.
The younger squad of the West Valley summer baseball program scored three unearned runs in the last two innings to win 6-3.
The two teams were originally scheduled to play a doubleheader yesterday. But because some of the Sun Valley players hadn't returned from a football camp at Central Washington University in time, the two teams played one nine-inning game.
"It was a good, little game," said Sun Valley Coach Dave Martinez.
Boboth was marvelous through much of his six innings of work, only running into trouble late in his outing on the mound. Boboth scattered seven hits while striking out six and allowing only two walks.
"Cole pitched great," said Martinez. "He did a good job."
Martinez said Boboth is developing into a strong pitcher for Sun Valley.
Boboth cruised through the first few innings, allowing just three hits from the second through the fourth innings. Boboth gave up two hits apiece in the fifth and sixth innings. West Valley scored its first run of the game in the sixth inning.
Gibby Briones entered the game in relief, working the last three innings. Briones allowed four hits and a walk, but a couple of errors in the last two innings didn't help his outing.
West Valley scored two unearned runs in its three-run eighth inning. In the top of the ninth, West Valley scored two runs, one of which was unearned.
"Gibby did fine," said Martinez. "We have to make plays behind him."
Sun Valley's big inning was a two-run second. Timmy Briones scored Josue Alvarez with a single. Gibby Briones then had an RBI double to plate his older brother for the other run in the frame.
Timmy Briones scored Sun Valley's other run in the fourth inning off an error by West Valley's center fielder.
Martinez said the problem for Sun Valley was that it didn't execute the fundamentals in the last couple of innings, such as making routine outs.
"There are little things we need to keep working on," said Martinez.
Sun Valley (3-5) will be taking part in an eight-team tournament at West Valley High School starting tomorrow (Thursday). Sun Valley will play its first game at 11:30 a.m. against the senior West Valley program.
"It will be a very competitive tournament," said Martinez. "We will probably be one of the younger teams."