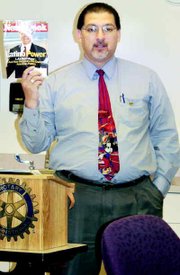 Tuesday night, 26 people started their journey to U.S. citizenship.
Ramona Sifuentez with Washington State University Tri-Cities Latino Outreach told members of the Sunnyside Daybreak Rotary Club that thanks in part to the organization's partnership with Sunnyside WorkSource, citizenship classes are being offered in the Lower Valley.
"There is definitely an interest from the Latino community (for the classes)," Sifuentez said. "There is always a waiting list."
She said many Latinos in the area realize the importance of becoming citizens of the United States.
Sifuentez said the problem the organization is having with the Lower Valley citizenship classes is a lack of funding. She explained that currently funds from the Tri-Cities are being used to support the Sunnyside classes. She explained that it's because of a lack of local funding that more isn't being done in both the Lower Valley and the Yakima area.
Raul Diaz, who also spoke at Wednesday morning's Rotary meeting on the importance of offering citizenship classes, explained that WorkSource has been very generous. He said WorkSource offers not only a classroom for the citizenship classes, but also provides the class with everything from pencils to projectors. He added that it's the WSU campus in the Tri-Cities that is providing the testing material.
Sifuentez added that 96 percent of the people who take the citizenship test after taking the classes pass the exam. Diaz noted that the same test was administered to seniors at Kamiakin High School and only 40 percent of the students passed.
Diaz explained that it's important to support citizenship classes because Hispanics are such a large segment of the population, and a growing segment.
"Three of the next four families that move to the area will have a Hispanic surname," Diaz said.
Diaz explained that to date the citizenship classes the organization has been offering have been paid for through various donations. However, he said money from Benton County is currently being used to support classes in the Yakima Valley.
He noted that the cost to offer the citizenship classes is about $500 a class.
"And we need $500 from Sunnyside," Diaz said. "We need help here."
Sifuentez added that she would like to see citizenship classes continue in Sunnyside, while Diaz said he would also like to see the class offerings expanded in the Yakima Valley.
Diaz said he would like to see both English as a second language and computer classes offered to Valley Latinos.
"It starts with...citizenship classes," Diaz said.