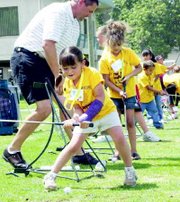 Black Rock Creek Golf Course Pro Jeff Bender played host to about 100 or so possible future Tiger Woods Wednesday afternoon.
Participants in the Best SELF summer program took the first of their weekly field trips to the Lower Valley golf course to learn the ins and outs of the sport.
Judy Jacobson, who is the manager of the Best SELF program, said the participants had a chance to learn a lot about the world of golf, such as safety on the course and golf etiquette.
This week marks the first week of the annual Best SELF summer program. This year, the program is being offered in Sunnyside, Mabton, Grandview and Zillah. This is the seventh year of the program, which is open to youngsters ages 5 to 11.
"Every year, I try to find a new recreational activity," said Jacobsen. "It (golf) is a great sport. I wanted kids to get exposed to it."
Jacobsen, who managed a golf course in Yakima, said she appreciates Bender opening the Lower Valley facility to the youngsters to teach them about golf.
The Best SELF program runs weekdays from 7:30 a.m. to 5:30 p.m. Participants will take weekly field trips. Registration is being accepted for the second session of Best SELF, which will begin in mid-July.
For more information on Best SELF, call (509) 574-1523.