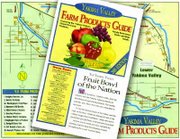 Cherries and apricots are ripe, and so the summer harvest of Yakima Valley fruits and vegetables begins. But where can consumers find the luscious fruits? Fortunately, there is help available, thanks to Lino Guerra of Sunnyside.
For the past 27 years, the Sunnyside truck farmer has helped to publish the Yakima Valley Farm Products Map and Guide.
The guide, which is printed for families seeking to visit area farms, is now available at local libraries, wineries, the Sunnyside Chamber of Commerce, as well as at area fruit stands, Guerra said.
The guide is free for the asking, published by the Yakima Valley Farm Products Guide Association. Extra copies are also available by writing Guerra at 1726 Gregory Ave., Box 107, Sunnyside, Wa. 98944.
"Be sure to included a stamped self-addressed business envelope," he suggests.
In addition to listing general harvest dates for Valley produce, the guide also offers recommendations for quantities to aid homemakers in determining how much produce to purchase for home preservation.
The guide also is designed to help shoppers locate Yakima Valley fruit stands, which specialize in growing the freshest asparagus, pears, apples, peaches and peppers in the Valley.
The Yakima Valley Farm Products Map and Guide also offers information about seasonal events, such as the annual Pacific Northwest Chile Pepper Festival, annually held the first weekend of August. The guide also lists other tourist attractions which help make a visit to the farm an enjoyable part of summertime in the Yakima Valley.
"By producing the guide, we are encouraging people to buy locally, which aids the economy and further promotes the bounty of our Yakima Valley," Guerra explained.