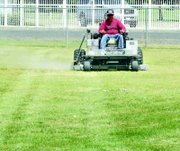 Sunnyside Public Works Director Jim Bridges, inspired earlier this year after watching a television episode of American Chopper, paved the way for the City of Sunnyside to purchase two top of the line riding lawnmowers.
To make a long story short, the city recently spent about $30,000 on two new Dixie Chopper lawnmowers that will help city parks staff be more efficient with the amount of work they do.
The new Dixie Choppers, which Bridges was first impressed with when he saw them in action on the TV show American Chopper, replace two relics the city had for lawnmowers, a 1996 Toro 3000 and a 1999 John Deere 935.
"There is just a lot more power and a lot more speed," said Sunnyside Parks Superintendent Mitch Ziegler.
Ziegler said one highlight of the new lawnmowers is the zero turning radius.
Ziegler said the new lawnmowers, which the city picked up in April, have allowed his lawn crew to be much more efficient.
The city currently mows 50 acres of grass, which is divided between SunnyView, South Hill, Central and Kiwanis parks. The bulk of the mowing occurs at SunnyView and South Hill parks.
Ziegler said SunnyView by itself used to take three days to mow, but can now be done in five or six hours using a two-man crew.
"I've got two days where guys can do something besides sit on a lawnmower," said Ziegler.
Some of the other work that the city parks crew can now concentrate on includes spraying and weeding.
"They can do everything else that needs to be done now," said Ziegler.
The new mowers are a lot more efficient, said Ziegler. The mowers have a cross blade cutting system.
"It actually cuts the grass twice," said Ziegler. "It makes a big difference."
The mowers also help the city maintain quality softball fields at SunnyView Park.
"Softball players don't like playing in four inches of grass," said Ziegler.
Ziegler said the only drawback to the mowers is that every once in a while they overheat and the crew has to go back and use the old mowers.
"They just hate it," said Ziegler. "They are slow. They have no power."