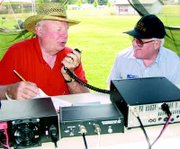 GRANDVIEW - At precisely 11 a.m. Saturday morning, radios were turned on and traffic started racing across the airways during the Lower Valley Amateur Radio Club's field day, held at the Grandview High School football stadium.
HAM radio operators from throughout the Lower Valley gathered at the stadium for the 24-hour field day event, receiving messages from other HAM radio operators throughout the United States and Canada.
Club President Jim Martin of Sunnyside explained that field day offers HAM radio operators a chance to test their operations. He noted that during the field day event HAM radio operators send out their signals without the help of electricity. He said they have to use generator or battery power to get their operation up and running.
"To see if we can do and how well we do it," Martin said.
He explained that field day helps ensure that the HAM radio operators are ready to jump in and assist in case of an emergency. Martin said HAM radio communication is often used when natural disasters strike and electricity is unavailable. He noted that the radios can also be used to help when it comes to hikers getting lost in the mountains. Martin said during search and rescue operations rescuers often find themselves in areas where cell phones don't work and HAM radio is the only viable mode of communication.
Martin explained that field day isn't something that was just going on in Grandview this past weekend. He said HAM radio clubs throughout the United States and Canada were participating in the event. During the 24 hours that the event takes place, Martin said one of the objectives is to make contact with as many other clubs as possible.
Watching as Lower Valley Amateur Radio Club member Steve Weidner turned the dials on his HAM radio, it was obvious that he wasn't having any trouble getting ahold of other clubs. In fact, during the course of the weekend the Lower Valley group made contact with clubs from Minnesota, Rhode Island and Canada.
"We're trying to make as many contacts as possible," Martin said.
Besides working to ensure that skills and equipment are up to par, Martin said field day also gives the dozen or so members who make up the Lower Valley club a chance to get together.
"We just have a good time doing it," Martin said.