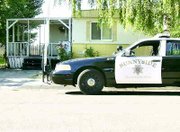 This morning Sunnyside police are trying to sort out the details in the multiple shootings that occurred in the Parkland Homes Trailer Park Tuesday night, which left two persons dead and three seriously injured.
Dead are Jesus Jaime Torres of Pasco, 24, and Jorge L. Garcia, also known as Roberto Salamancia, unknown age or address.
Torres was pronounced dead at Sunnyside Community Hospital, and Garcia, who was transported to Yakima Regional Hospital, died there.
Injured in the shootings was Leo Sanchez of Pasco, who was transported to Harborview Medical Center in Seattle, where he is listed as being in serious condition, said Sunnyside Police Deputy Chief Phil Schenck.
Treated for gunshot wounds at Sunnyside Community Hospital were two victims who appeared to have driven themselves to the hospital. They are Jesus Villalobos, 34, of Sunnyside and Alvaro C. Perez, 37, of California. This morning a spokesman from Sunnyside Community Hospital said no further information could be released about the two because of privacy laws.
Schenck said the local police department was called to Parkland Homes, site #36, about 10:09 p.m. last night, where officers discovered shooting victims scattered throughout the neighborhood.
"Officers found one victim in a house at #36, and another victim laying on the sidewalk up the street," Schenck said.
Upon further investigation of the scene, officers discovered another victim in a house further down the street.
"Apparently, two of the victims departed the scene and sought medical attention at Sunnyside Community Hospital," Schenck said.
Saying the incident didn't seem to be a random act of violence and that the individuals involved all knew each other, Schenck said his department is still investigating what the cause of the incident may have been.
He said the weapons used in the crime were recovered at the scene.
This morning, police officials called in the Washington State Crime lab to aid in processing the scene.
"We believe we may know the motive for the shooting, but it is still too early to say," Schenck added.
Speculations by sources involved in the incident, who sought anonymity, are that the shootings were the result of a drug deal gone bad.