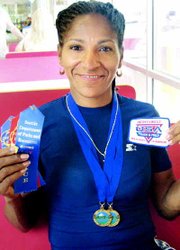 Busy might not be the right word to describe the life of Granger resident Edelza Knights.
Knights, who just turned 47 this week, is new to the area, having moved to the small Lower Valley community a year ago from Tacoma. But it is not the change in scenery that makes Knights' story interesting. Rather, it is Knights herself that runs away with the story here.
Knights is originally from San Paulo, Brazil. She used to work for a government agency in Brazil and it was through her job that her passion for running began. When Knights was 18 she really picked up a love of running. The government department she worked in as a secretary sponsored a track team to face other departments at different meets.
"They thought I was good," said Knights.
So seeing the potential, Knights was allowed to train for a half-day to get into shape for meets and work the other half of the day.
Knights' life changed after she won the San Paulo Marathon, a grueling 26-mile course, taking top honors in three hours and 12 minutes.
"It was just up the hill and down the hill," said Knights of the Brazilian race, which she still considers her greatest running achievement.
As a result of winning the prestigious San Paulo race, Knights earned the opportunity to take part in the famed New York City Marathon.
"If I knew it was going to be that hard, I would have trained three times harder," said Knights of the Big Apple race. "The first half of the marathon I was running good."
It was the second half of the race that knocked the young Knights around, as she ended up becoming ill. Knights said she had a hard time adjusting to the course. But despite wanting to head to the locker room, Knights finished the race.
"It was a very good experience," said Knights.
Following the New York City Marathon, Knights found a sponsor to pay for her racing efforts. For the next five years Knights competed in numerous races. She moved to San Francisco, which is a hotbed for competitive running. Knights said short distant races are very popular at Golden Gate Park in San Francisco.
In 1992, Knights moved to Washington state where she started to devote more time to making a family with her husband, who is a truck driver.
Knights has three boys and one daughter, all of whom share mom's passion for running. She said the key to keeping her children active is having them eat healthy.
Besides having children, Knights had to stop running marathons because of a back injury.
In all, Knights has taken part in 10 marathons over the years.
Now, Knights just competes in track and field events, including the 100 and 200 meter races and the discus.
But being a mom takes a lot of Knights' time now. However, she still is able to train and compete in numerous events.
On June 4, Knights took part in the Seattle Masters Track Meet, competing in the 30-plus women's division. She won first place honors in the 100 and discus events and was second in the 200 with a time of 29.8.
Knights also competed in the Portland Masters Northwest Regional Championships last weekend, boasting an impressive time of 28.92 in the 200 meters for top honors.
Knights said her main concern is making sure her children do well. Knights said she is focused on her children more than likely because her mom died when she was 8 years old.
"I give them all the attention I can because I didn't have it," said Knights.
Staying involved with running, though, is something that Knights feels is still important.
"You have to do something besides your normal life," grinned Knights.
Running has taught Knights a number of different things about life. She said running has taught her the importance of being patient, working hard to get what she wants.
"I try to teach the same things to my kids," said Knights. "If you want something you are going to have to work hard to get it. It is worth it."
In the spare time she does find between dealing with all of her children's activities and her running, Knights is going to school to learn English.
For those wondering the secret to Knights' active lifestyle, she is more than glad to tell.
"Take good vitamins and drink plenty of water," she smiled.