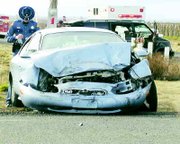 Car parts and broken glass were strewn across Arrowsmith Road at the intersection of SR 241 following a Monday afternoon crash, that Washington State Patrol Trooper Pelleberg has determined was alcohol related.
The two vehicles hit with such impact that the brakes and rear tires of a 1994 GMC Safari came off the vehicle.
According to Pelleberg, when he arrived at the crash shortly after 3 p.m., he discovered a 26-year-old Mabton man had been driving the van. When Pelleberg approached the vehicle he noticed a strong odor of alcohol.
"There were open beer bottles in it," he said. "We took the driver of the van to Sunnyside Community Hospital for a blood test."
The man admitted to drinking and driving the van, said Pelleberg.
According to Pelleberg, the van was traveling westbound on SLI Road and ran a stop sign in front of a 1997 Mercury Sable, driven by Juan D. Carballo, 30, of Grandview. Carballo was traveling southbound on SR 241.
Pelleberg said that the van was in the southbound lane of SR 241 when it was hit by the oncoming car, but added that the van driver was at fault.
Carballo and his passenger, Gerardo Salias-Diego of Grandview, were not injured.
The van driver, whom a Washington State Patrol report identified as Eleodoro Zaragoza, is being charged with vehicular assault pending further investigation. He was wearing his seatbelt at the time of the crash. Carballo was also cited at the crash scene for no valid operator's license.
Pelleberg believes that his passenger Juan Ramos, 34, of Prosser was also wearing a seatbelt. Ramos was reportedly thrown from the rear van window. He received a severe laceration to the right side of his skull, said Pelleberg.
Ramos was taken to Sunnyside Community Hospital, where he is currently being treated in the intensive care unit, but in good condition, according to hospital spokesperson Tom Lathen.
Both vehicles were totaled in the crash.