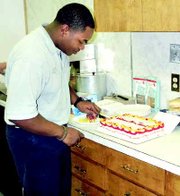 After a year away from home, Sunnyside firefighter Jamel Linzsey returned to work yesterday (Tuesday) and was greeted by his coworkers with a welcome home celebration.
Linzsey's tour in Iraq ended about a month ago, but after two weeks of debriefing, he spent two weeks visiting friends and relatives before returning to work.
The member of the U.S. Army reserve, served in Balad, Iraq as a firefighter.
"We ran two or three calls a day for various things," said Linzsey.
Responding to calls mostly on military bases and those within five miles of his camp, Linzsey said that he also assisted civilians who requested their services.
Leaving Sunnyside last January, Linzsey went to Ft. Lewis before heading to Iraq in February.
"It was hard to be in Iraq because I missed my family and friends," he said.
Coming home family and friends were on the top of his list of people to visit.
"I just wanted to say hello to my family and my daughter," he said. "I also wanted to get some rest."
After a year in a foreign country, where he didn't sleep much, and a 26-hour flight home, Linzsey was also ready to rest a bit before returning to work.
Besides family, Linzsey said he missed things that are normal in his life, such as driving a regular car, seeing school buses and mail men.
"I missed the normal American things they don't have in Iraq," he said.
One thing Linzsey said he will miss about Iraq are the clear skies.
"To me the skies were so much clearer over there," he said. "It seemed like you could see so many more stars. It was kind of like when I was a kid in the South."
Another thing Linzsey was impressed with was how most of the Iraqi people were nice.
"They just want their freedom," he said.
Since returning to the Sunnyside Fire Department, Linzsey has been busy catching up on the past year at the department.
"We got a lot of new equipment and a truck while I was gone," he said.
Linzsey added that within the first fifteen minutes of his shift, he went out on his first call.