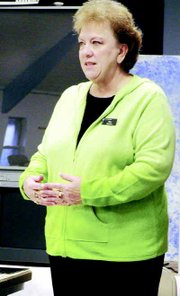 Mary Mion, a counselor at Lower Valley Crisis and Support Services, spoke to members of the Sunnyside Kiwanis Club Thursday morning about the affects of domestic violence on children.
A counselor for the past eight years, Mion said that domestic violence is something that effects everyone.
"We see it every day, we read about it in the newspaper, we see it on the news," she said.
An abused child can be a neighbor or family member, she said. But more so it taps into the pocketbooks of people, who pay for the extra judges, court services and jails for those who abuse spouses and children.
"What is family violence?" she asked. "It's hitting, slapping and throwing things. It's those cuts bruises and broken bones."
But abuse doesn't isn't always physical. It can also be yelling and degrading comments directed toward either the children or their parents.
"When a mother says the father's a bum, what a child hears is half of me is no good because half of me is my father," said Mion.
Children also face sexual abuse and neglect at home.
"Neglect is not taking your child to the dentist or not taking your child to the doctor when they need to go to the doctor," she said.
Neglect is also not giving children nutritious food.
Looking for signs of abuse, Mion said that abused children will have unexplained bruises or injuries. Someone may see a change in the child's behavior.
An outgoing child may become withdrawn and a child may begin to constantly complain of headaches or stomach aches and miss school. Mion added that an abused child may regress to bedwetting or thumb sucking.
In teens, a student may begin dropping school activities such as drama or sports.
"We need to know what is going on because it could be at home," she said.
Children aren't always the primary victim in an abuse situation. They may step in to prevent mom from hurting dad or dad from hurting mom and become injured.
Family violence can be confusing to children. At school, youths are taught that hitting is wrong and against the law, said Mion.
"At home they learn that hitting is the only way things are going to get done," she added.
Mion said that a lot of people say that people abuse because of drugs and alcohol.
"Drugs and alcohol don't cause abuse, but they may be a factor," she said.
Mion said the best way to help children is to report possible abuse to Child Protective Services, the police department or Lower Valley Crisis and Support Services. She added that reports can be made anonymously.
To report domestic violence against adults or children call the Sunnyside Police Department, 836-2120, or the crisis center, 837-6689.