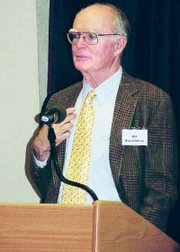 YAKIMA - "It takes a village to raise a child," is a saying often associated with child rearing, however it is something that can also be pertinent when it comes to restoring salmon populations in the middle Columbia sub basin.
Bill Ruckelshaus, Washington State Salmon Recovery Funding Board chair, said yesterday during a salmon recovery workshop held at the Yakima Convention Center, that in order for a salmon recovery plan to be successful everyone who is affected needs to be involved.
"It's a necessity that there be local involvement in a recovery plan for there to be any chance of success," Ruckelshaus said.
He added that the creation of a recovery plan on a local level with local involvement is part of the Environmental Protection Agency's (EPA) plan to help increase fish populations across the county. Ruckelshaus said the creation of a recovery plan is something that is being mandated by the federal government, and not something that is simply an option for the Mid-Columbia.
Ruckelshaus, former administrator of the EPA, explained that instead of having a government agency come in and try to implement their own recovery plan, what is being done is the government is giving sub-basins outlines of what they would like to see done in certain areas, then it is up to local groups to figure out how to best put those ideas to work.
"Local involvement in the development of a plan...is absolutely essential if we're going to get anywhere," Ruckelshaus said.
He noted that salmon recovery is an issue that effects everyone in the basin, from local governments to farmers and people living in cities.
"If we don't see the problem as our problem...then you can't make any progress," Ruckelshaus said.
Rob Walton, assistant regional administrator for salmon recovery with NOAA Fisheries, explained that the problem effecting the Mid-Columbia region is that there are two fish species living in area rivers that are listed as threatened on the EPA's endangered species list, including bull trout and steelhead.
"Recovery is about bringing these species to a point that they no longer need to be listed," Walton said.
Joel Freudenthal, Yakima County fish and wildlife biologist, told the standing-room crowd that work has long since started on putting together a salmon recovery plan for the middle Columbia sub basin.
According to Freudenthal, in November 2004 the Yakima sub basin plan was completed, which is one of the first steps in putting together a salmon recovery plan for the Mid-Columbia.
Freudenthal said, as it currently stands, the middle Columbia is planning to look at plans created by both the upper and lower Columbia sub basins, as well as the requirements from NOAA, in order to put together it's own plan. He noted that the middle Columbia needs to have its plan submitted to NOAA by the end of June.
Freudenthal said before the plan is submitted to NOAA this summer, he would like to ensure that people from throughout the middle Columbia sub basin have a chance to share their input on the subject.
Freudenthal said some of the issues that need to be looked at include bringing back fish populations to all waterways, even waterways where fish have never been their most productive. He explained that even small improvements to bull trout and steelhead populations can help.
He added that he thinks a few of the keys to increasing fish populations in the Mid-Columbia involve providing fish access at dams and dealing with some of the flow issues that effect local waterways.
"Can you folks help us find a solution?," Freudenthal asked those in attendance.
Sid Morrison, chair of the Yakima Basin Storage Alliance and former Washington State Secretary of Transportation, took time yesterday to talk more about one way the middle Columbia sub basin could think about taking care of flow issues.
Morrison noted that the Black Rock Reservoir, proposed to be placed outside of Sunnyside, would serve as a reservoir that would help provide irrigation water while increasing flows in the Yakima River.
He explained that the reservoir would be filled with water from the Columbia River when flows are in abundance. That water would then be used for recreational purposes, as well as irrigation. Using water from the reservoir for irrigating, would then mean that more water would be available to flow through the Yakima River, creating a more positive environment for the endangered fish species.