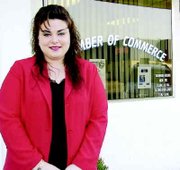 The past week has been one of catching up for the Sunnyside Chamber of Commerce's new marketing and events coordinator, Carrie Stone.
Stone, 25, started the newly developed position, which in many ways she feels was tailor made for her.
"Previously, I did a lot of the marketing and the events for a radio station," said Stone, referring to La Maquina Musical, a Prosser-based trio of stations.
Rado Harrington, the executive director of the Chamber of Commerce, liked what Stone could bring to the Chamber, she added.
Only a week into her new position, and Stone said she loves what she is doing.
"It's what I like to do, working with the businesses, meeting people and putting on events," said Stone.
She has also started meeting with a committee that is planning events for Centennial Square and with the organizers of Cinco de Mayo.
Stone said they are looking at holding small concerts in Centennial Square.
"They could be jazz, country, Spanish or rock, whatever the people want," she said.
Still getting her feet wet, Stone said she has been revising the membership benefits package fliers, which previously listed three or four services offered by the Chamber and informed business owners about the chamber banquet.
"I'm working on a new membership package with things that are going to be implemented," she said.
Building added value into being a chamber member, Stone said the chamber is starting a member-to-member discount program, which would allow chamber members to receive certain discounts or services from other chamber members.
Another program would be advertising discounts for businesses looking to promote their business on the radio or in other forms of media.
So far, one radio station has signed on, but she anticipates other media to follow.
The chamber is also starting a referral service, she said.
"When people come in here looking for a service we will refer them to chamber members only," she said.
Workshops on marketing fundamentals and business planning will also be offered by the chamber.
Stone said another thrust of the chamber will be to shop Sunnyside, shop in town and downtown.
"We're also working on a revitalization plan for downtown," she said.
Part of Stone's duties has been translating member documents into Spanish for Spanish speaking business people in Sunnyside.
"A lot of Hispanic business owners were upset because they felt like they weren't represented before," said Stone.
With the new push to represent both English and Spanish speaking business owners, Stone said she believes the Hispanic business people will become more involved in the chamber.