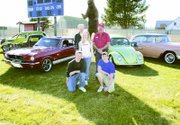 Do you remember your first ride? For many local folks, young and old, a car, truck or motorcycle takes them back to a certain place and time.
You are invited to take that nostalgic walk at the first-ever All School Show & Shine, to be held Saturday, March 19, on the Sunnyside High School football field.
Registration will begin at 11 a.m. with judging commencing at 1 p.m. Awards, with trophies created by SHS metal shop students, will wind up the day at 3 p.m.
Registration for vehicles is $5 for students with I.D. and $10 for adults. Admission to the show is $2 for adults and $1 for students. Children under 5 are free.
Car clubs from Yakima to the Tri-Cities, as well as the Johnny B. Good drag racing team, will participate as will Tom Denchel Ford, Speck Motors and Mid Valley Chrysler.
Cars, trucks, motorcycles and owners of any vintage are welcome!
Concessions will be available on-site. Parents and students have put the fund-raiser together to earn money for the 2005 senior class party.
For more information, please call Kim Morris at 830-2479.