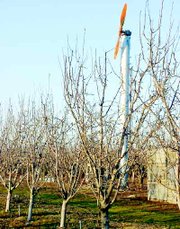 Warm weather has come early this year, which for some people means a welcome change from heavy sweaters and thick wool socks to sunglasses and open car windows. But for local farmers it means a long heating season lies ahead.
B.J. Thurlby, manager of the Washington State Fruit Commission, explained that this year's unseasonably warm February and beginning of March means that farmers are having to quickly scramble to get their pruning completed, while getting their heating equipment ready for chilly spring nights.
"Farmers are on high alert," Thurlby said.
He noted that frost season typically begins around the middle of March, and lasts through April or until early May. Thurlby said this year farmers are already in the midst of what could end up being a very long heating season.
He noted that growers are busy testing orchard fans, and making sure their smudge pots are in working order.
Gip Redman, head of field services for Holtzinger Fruit Company, said the warm weather is advancing buds throughout the Yakima Valley, bringing them on earlier and faster.
He said growers are getting concerned about bud damage from cold weather.
"It just extends the season," Redman said of the warm weather.
Besides pushing the buds, Redman said having an early spring can also put a lot of strain on growers. He said it takes more resources to heat an orchard over a longer period of time.
"All these things cost money," he said. "Growers are feeling the pinch."
Another concern that the warmer temperatures bring is that of the possibility that trees might need water sooner. Redman said with it already looking like a tight water year, growers don't want to begin irrigating until it is absolutely necessary. Redman said he would like to see some rain in the Valley to help growers push back when they need to start watering trees.
Redman said trees starting to bud early can also mean that insecticides will have to be applied earlier.
"It forces us to start earlier," Redman said. "It just accelerates everything."
Thurlby said despite creating what could be a long heating season for growers, this year's crop of cherries is already looking good.
"We're expecting great things," Thurlby said.