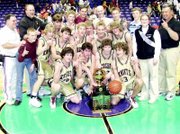 SPOKANE - Sunnyside Christian High School boys basketball player Andrew Schutt is known to be able to turn the momentum of a game on short notice. And that is exactly what Schutt did in the State 'B' championship game this past Saturday night at the Spokane Arena.
Sunnyside Christian captured its third boys basketball State title on Saturday, knocking off previously undefeated Willapa Valley, 46-41.
The Knights also won State titles in 1992 and 2002.
Willapa Valley entered Saturday night's title bout winning 27 consecutive games this year. The Vikings had dominated each of their opponents at the State tournament, with their hardest victory coming against LaCrosse-Washtucna in the opening round, winning 62-57. Willapa Valley won its next two games by margins of 21 points and 16 points.
The Knights entered Saturday's battle looking as if they hadn't even broken a sweat. Sunnyside Christian demolished Tacoma Baptist on the opening night of State, 61-31. The Knights followed that up with a 54-31 whipping of DeSales Thursday night and then bounced King's West from the title chase on Friday with a 53-41 victory.
"I knew going in (to Saturday night) we had our hands full," said Sunnyside Christian Coach Dean Wagenaar, who captured his second State 'B' title Saturday night. Wagenaar's other title came in 2002. Wagenaar was also an assistant coach on the 1992 Knights team that won the State crown. "We knew we were going to have to contain and play smart."
The Vikings didn't throw anything new at the Knights Saturday night, coming out in the 1-2-2 zone Willapa Valley is known for running.
Derek Van de Graaf scored the opening points of the 2005 State title game at the 7:19 mark off an assist by Sean Tudor.
The Vikings' Garrett Foster gave Willapa Valley a 5-2 lead with a 3-pointer at the 5:21 mark. Sunnyside Christian's Chad Den Boer, who played an excellent State title game, tied things up at 3:54 with a 3-pointer of his own.
Willapa Valley's Ryan Freemen had four points and teammate Brady Langer added a 3-pointer to give the Vikings a 12-10 lead at the end of the first quarter. Sunnyside Christian's Jordan Haak, who was named to the State tournament first team, scored three points to finish out the first quarter while Van de Graaf added a bucket.
Trailing 12-10, the Knights changed the make-up of the first half with a barrage of 3-pointers, nailing four consecutive long bombs. Den Boer had two of the 3-pointers while Schutt and Matt Haak added one each to give the Knights a 28-24 lead with 51 seconds left in the half.
Freeman was the only player that kept the Vikings in the first half, as he scored 11 of Willapa Valley's 15 second quarter points. That would be all Willapa Valley fans would here from Freeman, as he would only score two points against a stingy Knight defense the rest of the way. Freeman, though, would have his name mentioned later on in a crucial fourth quarter play involving Schutt.
Langer hit a 3-pointer with 27 seconds left in the first half to cut the Vikings' deficit to 28-27.
The Knights held on to the lead for much of the third quarter, as the two teams traded buckets back and fourth. With 1:39 left in the third quarter, Willapa Valley was finally able to tie the game at 37 following a bucket from Zach Baugher. Baugher added another field goal right towards the end of the third quarter to give the Vikings a 41-40 lead.
The fourth quarter would be when the Knights would showcase the defensive prowess that got them to the finals, as well as the offensive skills that led them to a 26-1 record on the season.
The Knights held Willapa Valley scoreless in the fourth quarter. Sunnyside Christian would score only 6 points in the fourth quarter, but Schutt came up with the most significant 3 points of his career.
After displaying some stellar defense and outstanding ball handling skills, Schutt, following a television timeout, was fouled on a drive to the hoop by Freeman. The bucket fell and with the free throw shot made by Schutt the Knights took a 43-41 lead into the final minutes.
"That was big," said Wagenaar.
Schutt would play a big part again in the final 40 seconds. After Den Boer, a State tourney second team selection, missed a free throw, Jordan Haak grabbed an offensive board. On the ensuing play, Schutt was credited with an assist by dishing inside to Jordan Haak, who scored. Den Boer then added a free throw after a flagrant foul by Willapa Valley with 16 seconds left to secure the win.
In Friday night's game against King's West, the Knights challenged the 2-1-2 zone the Warriors ran with their 6'8" star Erik Bright sitting right in the center.
The Warriors had to change up their plans after the Knights nailed four 3-pointers in the first quarter to take an early 18-5 lead.
Wagenaar said the Knights also did a good job of holding King's West Adam Shildmyer, who had been averaging 21 points per game, to only 4 points on Friday night.
Wagenaar said that first quarter onslaught by his team was key in setting the tone of the game.
The Knights secured their semi-final win with a 16-for-19 performance at the free throw line in the fourth quarter.
"We got better shots and we hit our 3s early," said Wagenaar.
Wagenaar said he was very impressed with the way his players handled themselves at the State tournament.
"We played about as well as we could," said Wagenaar. "Our defense started everything. We made no mistakes.
"It is a pretty good way to end the season," said Wagenaar. "We have to take this and be humble with it."
The Knights' only loss of the season was in their fifth game of the year against Riverside Christian.
1 2 3 4 T
King's West 5 10 4 22 41
SCHS 18 5 10 20 53
Scoring: SCHS-Jordan Haak 16, Chad Den Boer 12, Andrew Schutt 10, Matt Haak 9, Derek Van de Graaf 6.
King's West-S. Moore 11.
1 2 3 4 T
Willapa Valley 12 15 14 0 41
SCHS 10 18 12 6 46
Scoring: SCHS-Chad Den Boer 13, Andrew Schutt 12, Jordan Haak 10, Derek Van de Graaf 6, Matthew Haak 5.
Willapa Valley-Ryan Freeman 18.
Rebounds: Chad Den Boer 10, Jordan Haak 5.
Assists: Andrew Schutt 5.